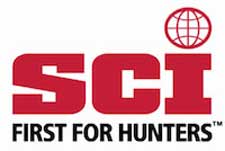 USA –-(Ammoland.com)- During the spring of 2012, Safari Club International members alerted the SCI Washington, DC office that U.S. Airways had changed their baggage handling regulations in regards to firearm transport to and from Spain.
SCI's Washington office corresponded with Barbara Crown of the Hunting Report to confirm that her readers had also noted the prohibition of flying with firearms.
In July 2012, SCI's Washington lobbyists met with representatives of Airlines 4 America, which is the trade association for the airline industry. SCI followed up that meeting by sending a letter to U.S. Airways requesting an immediate reversal of their position to refuse firearm transport to Spain.
Today, October 26, 2012, SCI can confirm that hunters will now be able to check their firearms to Spain when traveling with U.S. Airways.
In an exclusive discussion with Safari Club International's DC office, U.S. Airways' Managing Director for Security described the new customs procedures being required by Spain to import firearms as checked baggage. U.S. Airways developed a new baggage tagging system that satisfies both private citizen's luggage security and the customs requirements of Spain.
Through the combined efforts of SCI's membership contacting the D.C. office, the open dialogue that was created with Airlines 4 America, and a direct appeal to U.S. Airways, we have successfully reached a conclusion that is hunter friendly.
SCI would like to thank the directors and security experts with U.S. Airways who made it possible to improve their luggage policies to again allow hunters to travel to Spain with their firearms.
This is not the first time that SCI has been successful getting an airline policy changed to the benefit of hunters. In the past 5 years, SCI has worked with United Airlines to allow antlers in checked baggage after their attempt to disallow it. SCI also worked with the NRA to reverse an American Airlines policy that prohibited flying with firearms internationally.
About the Hunters' Defense Fund:
Safari Club International Hunters' Defense Fund supports the important advocacy, conservation and legal work keeping hunters afield and promoting hunting worldwide. Donations to the Hunters' Defense Fund have a direct impact on our freedom to hunt, wildlife conservation policy and important legislative, regulatory and legal issues. DONATE NOW: www.hunterdefensefund.org
Becoming an SCI Member:
Joining Safari Club International is the best way to be an advocate for continuing our hunting heritage and supporting worldwide sustainable use conservation, and hunting freedoms. JOIN NOW: www.safariclub.org/Join