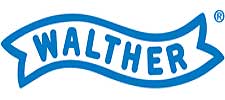 Fort Smith, AR –-(Ammoland.com)- Walther Arms, Inc. selects Papagalos Strategic Communications as its United States marketing firm.
Papagalos, a full-service advertising agency that specializes in the outdoor market, will be involved in brand planning, advertising, public relations, online marketing, promotions, and sales materials.
Germany based PW Group, owners of shooting sports companies CARL WALTHER GmbH Sportwaffen and Umarex, formed Walther Arms, Inc. to handle all the importation, sales, marketing, distribution, and servicing of Walther products in the United States.
"We are building a new team at Walther Arms. In all areas of marketing and sales, we are assembling top leaders with extensive experience in the firearm's industry who can bring fresh new ideas to the brand. From the top down, we are creating a new energy for the brand. We are creating a new Walther," said Cyndi Flannigan, Vice President of Sales and Marketing for Walther Arms, Inc.

According to Nicholas Papagalos, President of Papagalos Strategic Communications, "Walther is one of the industry's most powerful brands. Amid a robust firearms market, Walther Arms is taking a more aggressive approach to distribution and marketing in the U.S. Papagalos is partnering with Walther Arms to implement bold new steps to intensify its marketing effort and increase market share."
About Walther Arms, Inc.
Walther has been renowned throughout the world for its innovation since Carl Walther and his son, Fritz, created the first semi-automatic pistol in the year 1886. Today, the innovative spirit of its founders lives on as Walther celebrates 125 years as one of the world's leading manufacturers of sporting, defense and law enforcement firearms. For more information, visit www.waltherarms.com.
About Papagalos Strategic Communications
Papagalos Strategic Communications is a full-service advertising agency specializing in building businesses through integrated marketing campaigns. Services include strategic brand planning, advertising, online marketing, public relations, branding, and promotion. The company has been in business for 20 years. For more information, visit www.papagalos.com.