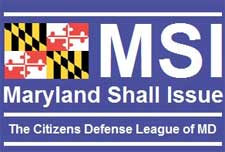 Maryland ––(Ammoland.com)- As many of you already know, the Woollard case proceeded to oral arguments on October 24th at the 4th Circuit Court of Appeals in Richmond, VA.
The audio transcript of the hearing can be found here: https://www.marylandshallissue.org/share/woollard4ca.mp3
We also have collected some analysis by those present and those who have reviewed the transcript.
https://marylandshallissue.org/2012/10/initial-woollard-review/
MSI remains cautiously optimistic that the 4th will uphold the ruling of the District Court. We will update you with any news regarding the case. We expect a ruling within 3-6 months, but it could come earlier or later. It is difficult to predict when the court will issue a ruling and opinion.
Who Needs Civil Immunity?
One of the causes MSI championed and was successful in getting passed was a civil immunity bill. This relatively new law prevents criminals from suing those occupying a dwelling if they acted in lawful self defense. For several years, the chairman of the Senate Judicial Proceedings Committee, Brian Frosh, saw fit to "desk drawer veto" the bill by refusing to schedule it for a vote in committee, in spite of nearly unanimous support in both the House and the Senate. Part of his reasoning was that such a suit had never taken place in Maryland. Well, straight from the headlines in California, we see that criminals do indeed sue victims.
https://www.marinij.com/rosskentfieldgreenbrae/ci_21837852/greenbrae-shooting-defendant-sues-90-year-old-man
We are thankful that the good Senator saw fit to allow Marylanders at least some of the protections found in a majority of other states.
Maryland Shall Issue, Inc.
1332 Cape Saint Claire Road #342
Annapolis, Maryland 21409
240-446-6782
Mission Statement: Maryland Shall Issue is an all volunteer, non-partisan effort dedicated to the preservation and advancement of all gunowners' rights in Maryland, with a primary goal of CCW reform to allow all law-abiding citizens the right to carry a concealed weapon; and to the education of the community to the awareness that 'shall issue' laws have, in all cases, resulted in decreased rates of violent crime.