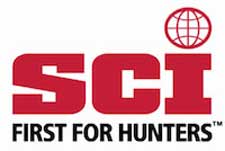 Tucson, Ariz. –-(Ammoland.com)- A variety of educational seminars will be available for interested attendees of the 41st Annual Safari Club International Hunters' Convention in Reno, NV Jan. 23-26.
"We are proud to offer a long list of educational seminars held each and every day of convention," said SCI President John Whipple. "Our annual convention offers much more than a place to catch up with old hunting friends and book a hunt," he concluded.
Seminars are complementary for convention attendees and are repeated throughout the four-day convention.
This year's featured seminars include "Whitetail Food Plotting for Small Acreages" presented by Paul Cwiklinski, "Field Dress Like the Experts" with Ron Dube, "Fierce Fishes of the Amazon" by Paul Reiss, "Creating the Perfect Trophy Room" by Tom Julian, and "Making Sure Your Trophy Gets Home" which will be given by SCI attorney Anna Seidman and focus on the challenges of trophy documentation and importation.
In addition to these featured seminars, the SCI Record Book and World Hunting Awards department will be presenting on several topics including three different trophy measuring seminars.
Please visit http://www.showsci.org/static/Members/?Action=Sem to see a full list of seminars.
To learn more about the 41st Annual Hunters' Convention events, visit www.ShowSCI.org. Register by December 9, 2012 to take advantage of any advance ticket/registration early bird special rates! Tickets for the 2013 convention are being sold faster than any show in SCI history.
Becoming an SCI Member:
Joining Safari Club International is the best way to be an advocate for continuing our hunting heritage and supporting worldwide sustainable use conservation, wildlife education and humanitarian services. JOIN NOW:http://member.scifirstforhunters.org/join/
Safari Club International:
First For Hunters is the leader in protecting the freedom to hunt and in promoting wildlife conservation worldwide. SCI's approximately 200 Chapters represent all 50 of the United States as well as 106 other countries. SCI's proactive leadership in a host of cooperative wildlife conservation, outdoor education and humanitarian programs, with the SCI Foundation and other conservation groups, research institutions and government agencies, empowers sportsmen to be contributing community members and participants in sound wildlife management and conservation. Visit the home page www.safariclub.org or call (520) 620-1220 for more information.