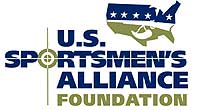 Columbus, OH –-(Ammoland.com)- A group of more than 75 women from around the country gained a better understanding of outdoor related activities thanks to the Trailblazer Adventure Program held recently at the American Heritage Girls National Conference for staff and volunteers near Cincinnati, Ohio.
The Trailblazer Adventure Program, a youth program of the U.S Sportsmen's Alliance Foundation (USSAF) designed to introduce youth and families to the outdoors, and the American Heritage Girls (AHG), a Christ centered scouting organization for girls based in Cincinnati, signed a Memorandum of Understanding in May 2012.
To jump start the partnership, a Trailblazer Adventure Day was held Saturday, November 10, 2012 to introduce AHG troop leaders to the excitement of outdoor activities at Cub World located in Loveland, Ohio.
Troop leaders experienced numerous outdoor related activities such as archery, target shooting and fly fishing, as well as Dutch oven cooking demonstrations from Camp Chef and hands on displays by the National Wild Turkey Federation.
"We were all given one on one instruction for every activity," said Jennifer Gross, AHG troop leader from Louisville, Kentucky. "It was just great getting to try something new."
Prior to the Trailblazer Adventure Day, troop leaders of AHG began their National Conference on Thursday, November 8th and were given the opportunity to sit in on workshops throughout the day, including two workshops given by the Trailblazer Adventure Program and the Ohio Division of Wildlife.
The Trailblazer Adventure Program staff provided a detailed presentation to troop leaders on Friday, November 9th to explain the new partnership between the two organizations, as well as provided insight into the details of the Trailblazer Adventure Program.
"We explained how Trailblazer works and what activities could be present at Trailblazer Adventure Days," said Frank Price, USSAF Education Director. "We are really excited about this partnership and getting women in the outdoors, and the excitement in the room from the troop leaders was great to see."
Trailblazer staff spoke of the importance of introducing outdoor activities to girls at a young age­­—the age to build an interest that could possibly follow them into their adult lives. Examples of why Trailblazer Adventure Days are beneficial to AHG troops were explained and included examples of how they can be used as recruitment tools, build troop cohesiveness, and how Trailblazer could lead to scholarship opportunities for girls who find an interest in shooting or archery.
"Trailblazer is going to give young girls an opportunity to try things that they have never tried before," said Kali Parmley, USSAF Associate Education Director. "This is going to give them a chance to try new activities together as a troop, and at the same time get them outside enjoying our great outdoors."
Ohio Division of Wildlife representative Kathy Garza-Behr spoke to AHG troop leaders about the importance of hunting and conservation, while at the same time highlighting famous female sportswomen past and present.
Garza-Behr provided a detailed presentation on how troops can be more environmentally friendly, including examples of conservation activities that can be practiced as a group including rain barrel projects and tree planting. Garza-Behr also educated troop leaders on how to obtain grants and equipment rentals from the Ohio Division of Wildlife.
Ladies participating in the Trailblazer Adventure Day learned from expert sportsmen and women from around Ohio. Groups included the Buckeye United Fly Fishers, Miami Valley Fly Fishers, members of Buckeye Firearms Association, Golden Hawks Archery Club, Camp Chef representative Paul Bessler and members of the Hamilton/Butler County chapter of the National Wild Turkey Federation.
Troop leaders tried their hand on the archery range, were given one on one fly rod and casting instructions, and many stepped foot on the pellet gun range for the first time.
"I have never shot a gun before today," said Ann Staley, AHG troop leader from Louisville, Kentucky. "It was so much fun!"
As part of the Memorandum of Understanding, the Trailblazer Adventure Program is in the process of developing an age appropriate shooting sports badge for AHG troops. Trailblazer staff plans to have the badge completed within a year for AHG members to implement the badge immediately into their program to introduce girls to the shooting sports world.
AHG troop leaders were also given the chance to become educated on aspects of turkey hunting from the NWTF representatives, including turkey calls, blinds, and equipment such as camouflage gear and shotguns. NWTF member Angela Garls provided insight into being a female turkey hunter, and passed out information on the NWTF and turkey feathers for participants to take home.
A Dutch oven cooking station was also available for troop leaders thanks to Paul Bessler, Camp Chef representative. Bessler demonstrated how to heat and clean a Dutch oven, and provided food samples such as a breakfast blend of hash browns and eggs for morning participants and cherry cobbler for ladies in the afternoon session.
"The Trailblazer event was a great success. Watching so many of the volunteers trying new activities was exciting," said Carolyn Moore, AHG Regional Support Manager. "The program helped the participants feel comfortable with these skills and I'm sure they will encourage the girls in the troops to try these new activities too."
The Trailblazer Adventure Program and AHG plan to expand their partnership beginning with an event planned for April of 2013 in South Carolina.
For more information on the Trailblazer Adventure program, visit www.trailblazeradventure.org or call 614-888-4868 to speak to the Trailblazer staff.
For more information about the American Heritage Girls, visit www.ahgonline.org or call (513) 771-2025.
About:The U.S. Sportsmen's Alliance is a national association of sportsmen and sportsmen's organizations that protects the rights of hunters, anglers and trappers in the courts, legislatures, at the ballot, in Congress and through public education programs. Visit www.ussportsmen.org.