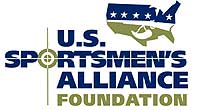 Columbus, OH –-(Ammoland.com)- The Sportsmen's Act of 2012 continues to move forward in Congress. On Tuesday, November 13th the U.S. Senate held a procedural vote that has cleared the way for consideration of the full Senate this coming Thursday – November 15th 2012.
The bill, S. 3525, is a package of pro-sportsmen's bills – collectively called the Sportsmen's Act of 2012. These proposals have been combined together to protect hunting, fishing and recreational shooting on federal lands and slam the doors on many methods through which anti-hunting and extremist environmental groups attack sportsmen and women.
Senate Bill 3525 includes numerous important provisions, including:
Clarifying that the Toxic Substances Control Act does not cover traditional (lead) ammunition or fishing tackle. This means that anti-hunting organizations, and environmental groups, cannot use the courts to force the EPA to regulate, or ban, the use of traditional ammo.
Facilitate construction of new shooting ranges on BLM and Forest lands.
Allowing for the importation of 41 polar bear trophies from Canada that were legally taken before the polar bears were listed as an endangered species. This will allow hunters to bring home their taxidermy mounts.
"Many of these provisions are critically necessary changes," said Evan Heusinkveld, USSA's Director of State Services. "The Sportsmen's Heritage Act takes sportsmen out of a defensive position and puts us on the offense to protect our heritage. As a result, anti-hunting forces are now working to kill the bill. Sportsmen need to call their U.S. Senators today to urge their support of S. 3525."
Because the Senate version (S. 3525) is different from the version of the bill passed by the House of Representatives (HR 4089) the differences will have to be resolved in conference committee before a bill can be sent to the President.
The Sportsmen's Heritage Act is supported by the nation's leading hunting and conservation organizations, including: the U.S. Sportsmen's Alliance, the National Shooting Sports Foundation, the National Rifle Association, National Wild Turkey Federation, Congressional Sportsmen's Foundation, Masters of Foxhounds Association, and many others.
Take Action! S. 3525 is expected to be voted on by the full Senate on Thursday, November 15th. Sportsmen and women should call their U.S. Senator's today and urge a YES vote on the Sportsmen's Act of 2012. Visit the U.S. Sportsmen's Alliance Legislative Action Center to find your senator's contact information.
About:The U.S. Sportsmen's Alliance is a national association of sportsmen and sportsmen's organizations that protects the rights of hunters, anglers and trappers in the courts, legislatures, at the ballot, in Congress and through public education programs. Visit www.ussportsmen.org.