The Connecticut Citizens Defense League (The states largest grass roots gun rights organization) released the following comments today on the visit to Connecticut by U.S. Attorney General Eric Holder.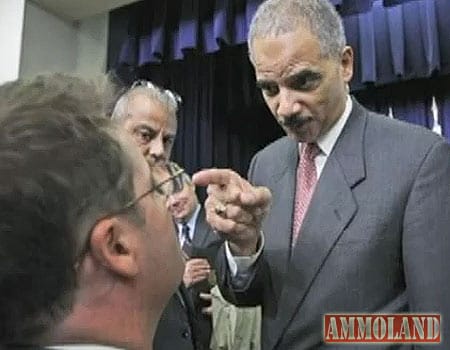 Groton, CT--(Ammoland.com)-  With Connecticut Citizens Defense League acting on the behalf of many gun owners in this state, including our 2,500 official members, concerns are raised that new gun crime initiatives usually include new laws that infringe on the rights of law abiding gun owners.
Any new crime Bills that get introduced and enacted are only followed by law abiding citizens. Criminals by definition already do not follow the law.
Connecticut Citizens Defense League President Scott Wilson offers the following comments: "Attorney Holder is the last person that should be involved with combating so called gun violence in Connecticut or any other state. It was his Justice Department that allowed thousands of guns into the hands of Mexican drug cartels, and lead to the killing of border patrol agent Brian Terry".

"We as an organization recognize that there is a higher level of criminal on criminal use of firearms in Connecticut, however our main concern is that Eric Holder has never demonstrated that 2nd amendment rights apply to law abiding citizens. Lawful gun owners cannot trust a joint initiative between his agency and our state government".
About the CCDL: The Connecticut Citizens Defense League was formed in 2009 by a small group of concerned citizens as a non-partisan organization to advocate second amendment rights in the state of Connecticut. Since their founding, the group has grown to over 2,500 members from all walks of life. Thanks to this large support base across the state the CCDL has become a fixture of the capitol, well recognized by all committees that regularly see firearms related bills as well as the state Board of Firearms Permit Examiners. As the go-to organization in the state they are consulted regularly by lawmakers who have questions and concerns about pending legislation or existing laws. In the time since their founding not a single anti-gun bill has made it through the House or the Senate, and many of their own bills have been introduced and passed.
For more information on the CCDL please visit www.ccdl.us