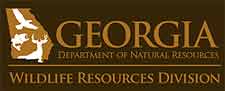 SOCIAL CIRCLE, Ga. –-(Ammoland.com)- Santa should take note.
This holiday season, the Georgia Wildlife Resources Division is offering gifts guaranteed to please hunters, anglers and other wildlife enthusiasts, and benefit the wildlife and wild places they enjoy.
Before heading to the stores, go online to www.georgiawildlife.com to learn more about:
Lifetime Sportsman Licenses
With a lifetime license, the Georgia resident hunter or angler on your gift list will not need to pay for another state hunting or fishing license. Ever! From hunting trophy whitetails to casting for lunker largemouths, their cherished recreation is covered.
Prices are set by age group:
Residents 65 and older can receive a free lifetime license, with an option to pay a one-time fee of $10 for a durable, commemorative plastic card.
The best bargain is for children: $200 for under 2 years old and $350 for kids age 2 to 15. That's a potential savings of more than $2,600 over a lifetime.
The price for ages 16 to 59 is $500.
Discount lifetime licenses for resident adults age 60 to 64 are $95.
Applications and document details are at www.georgiawildlife.com/LifetimeLicense.
Annual GORPs
A Georgia Outdoor Recreational Pass, or GORP, is required for non-hunting or non-fishing recreation such as birding, horseback riding and hiking at 32 sites managed by the Wildlife Resources Division. Sites include the popular Crockford Pigeon Mountain Wildlife Management Area (WMA) in northwest Georgia; Charlie Elliott Wildlife Center, about one hour east of Atlanta; and Grand Bay WMA in southeast Georgia.
One of the best bargains for outdoors lovers is the annual GORP. Good for a year from the date of purchase, the annual permit costs only $19 for people ages 16 to 64. (Those older than 64 and younger than 15 are exempt from the pass.) GORPs are available at www.georgiawildlife.com/licenses-permits-passes, by phone (800-366-2661) and from license retail agents (www.georgiawildlife.com/LicenseAgents). Transaction fees apply. Social Security number required.
Outdoor recreation-related gifts have mass appeal. In 2011, 90.1 million Americans, 38 percent of the U.S. population 16 years old and older, enjoyed some form of fishing, hunting or wildlife-associated recreation. And, participation is on the rise. For instance, from 2006 to 2011, overall hunting participation increased 9 percent, and the number of anglers nationally rose 11 percent.
Even more special …
A lifetime license or annual GORP not only provides access to the great outdoors, proceeds support Georgia wildlife and state-managed lands.
The Wildlife Resources Division, part of the state Department of Natural Resources, uses hunting and fishing license sales to fulfill its wildlife mission. Yet sales of Lifetime, Sportsman and other licenses are also a key measure through which states receive Wildlife and Sport Fish Restoration funding.
For 75 years, the federal Wildlife and Sport Fish Restoration program (http://wsfr75.com) has channeled dedicated excise taxes on sporting equipment – more than $14 billion nationwide since 1937 – to states to manage fish and wildlife and provide recreational opportunities. Uses in Georgia vary from funding public fishing areas to managing the state's 1 million-strong deer herd. Georgia receives federal funds only for paid licenses. Avid hunters and anglers who buy a discount lifetime license ($95) at age 60, rather than waiting for a free lifetime license at age 65, ensure that their excise taxes are returned to Georgia for the rest of their life.
GORP is also a gift that gives. The pass helps pay for needed maintenance at wildlife management and public fishing areas that receive significant use for recreation other than hunting and fishing. Implemented Jan. 1, GORP has raised more than $100,000 for projects including boardwalk renovations at Grand Bay WMA and camping area repairs at Crockford-Pigeon Mountain WMA. Details at www.georgiawildlife.com/Georgia-Outdoor-Recreational-Pass.
So skip the wrapping paper this year, and give to the adventurer on your gift list and all Georgia wildlife with a Lifetime Sportsman License or annual Georgia Outdoor Recreational Pass.