Established leaders bring industry connections, media expertise, policy vision to national sportsmen-conservation group.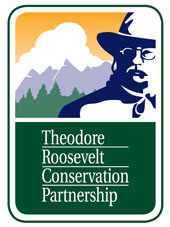 WASHINGTON –-(Ammoland.com)- Two notables in the outdoors world, John Q. Griffin and Frank Hugelmeyer, have joined the board of directors of the Theodore Roosevelt Conservation Partnership and are bringing a broad range of skills and expertise to the leadership of the national sportsman-conservation group.
"The Theodore Roosevelt Conservation Partnership is fortunate to now be able to rely on the guidance of John Griffin and Frank Hugelmeyer in advancing the consensus priorities of America's sportsmen," said Katie Distler Eckman, chair of the TRCP board of directors. "These committed outdoorsmen, leaders and visionaries bring invaluable expertise and energy to the TRCP at a time when our community's voice needs to be heard in Washington and across the country."
John Q. Griffin spent 24 years as president of global publishing companies including PC World (1987-1990), Rodale Press (1990-2000), National Geographic (2000-2011) and Time News Group (2011).
Griffin's early work experience was as an editor and consumer marketing executive. He served on the board of the Audit Bureau of Circulation and from 2008-2010 was chairman of the Association of Magazine Media, the only three-term chairman in the organization's history. A lifelong outdoorsman and conservationist, he has served on the boards of the Lehigh Valley Conservancy and Trout Unlimited. He currently is working as a consultant in Brooklyn, N.Y.
Frank Hugelmeyer is president and CEO of Outdoor Industry Association and a 25-year industry veteran with extensive experience in retail, brand development, research and development, manufacturing and association management. He has served on advisory boards for The Outdoor Foundation, Western Governors' Association and America's Great Outdoors, among others.
OIA provides trade services for more than 1,300 manufacturers, suppliers and retailers. Under Hugelmeyer's direction, OIA formed the Outdoor Foundation, established its international trade programs, set new global standards in corporate responsibility and published a market research library, including a new report on the economic impact of the outdoor recreation economy.
"The Theodore Roosevelt Conservation Partnership and our sportsmen partners stand to gain greatly from John's and Frank's leadership, expertise and unique vision," said TRCP President and CEO Whit Fosburgh. "We look forward to working together to strengthen laws, policies and practices that affect fish and wildlife conservation, benefit America sportsmen and perpetrate an outdoors legacy established by Theodore Roosevelt."
Learn more about the TRCP by reading the TRCP 2012 Conservation Policy Agenda.
About:
Inspired by the legacy of Theodore Roosevelt, the TRCP is a coalition of organizations and grassroots partners working together to preserve the tradition of hunting and fishing. Visit: www.trcp.org