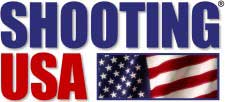 USA –-(Ammoland.com)- Shooting USA's Impossible Shots – Remembering Annie
This week we pay tribute to the original exhibition shooter, Little Miss Sure Shot, Annie Oakley. First, a review of our best Annie Oakley over the shoulder mirror shots. Bob and Becky Munden, Byron Ferguson and Todd Jarrett all have their version of Annie's classic shot. Then Smith and Wesson pro Julie Golob attempts her first ever mirror shot. It's Julie's chance to join the list pro shooters accomplishing incredible Annie mirror shots.
Shooting USA – The 2012 IDPA Indoor Nationals
International Defensive Pistol Competition is the game for saving your life, with scenarios drawn from everyday events for concealed carry practice. The IDPA Indoor Nationals at Smith & Wesson starts the season with a major event. This time the match includes handicapped wounded warriors invited to compete. Plus, a profile of the founder and Chairman of Crimson Trace. We found Lew Danielson on the back roads of Oregon riding his hot-rod Harley. More Info…
Wednesday on Outdoor Channel
The Shooting USA Hour:
Eastern Time: 3:30 PM, 8:30 PM, 12:00 Midnight
Central Time: 2:30 PM, 7:30 PM, 11:00 PM
Mountain Time: 1:30 PM, 6:30 PM, 10:00 PM
Pacific Time: 12:30 PM, 5:30 PM, 9:00 PM
Shooting USA is listed as a one hour show in your cable menu.
Shooting USA's Impossible Shots:
Eastern Time: 3:00 PM, 10:30 PM, 2:00 AM
Central Time: 2:00 PM, 9:30 PM, 1:00 AM
Mountain Time: 1:00 PM, 8:30 PM, 12:00 Midnight
Pacific Time: 12-Noon, 7:30 PM, 11:00 PM
Join us Wednesday Night for 90 minutes of Shooting USA Shows, The only TV gun shows airing every week, 52 weeks each year.
Jerry Talks Guns and Competition in the latest Shooting USA Podcast:
Mike and John have guest Jerry Miculek talking this week. The S&W Pro talks about his plans for competition and the newest M&P Model releases just announced. Click to Listen http://shootingusa.podbean.com/
Thanksgiving This Week:
All of us wish you and yours the best in this short week. Thanksgiving is the time to gather the family for great food and some thoughts of our blessings over the past year. Up in the Northeast, we know the Salvation Army will be providing Thanksgiving dinners for those made homeless by Hurricane Sandy. It would be a way of sharing your blessings to make a donation to help the organization that gives the most to disaster victims and their families. https://donate.salvationarmyusa.org/