Donors Can Also Win One of Several Valuable Prizes.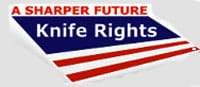 Gilbert, AZ –-(Ammoland.com)- A generous and anonymous Knife Rights supporter has issued a Matching Challenge in support of Knife Rights.
He will match, dollar for dollar, every dollar raised by end of the year, up to $50,000!
Knife Rights Founder and Chairman Doug Ritter said, "this is an extraordinary offer from an extraordinary patriot who wants to encourage our supporters to help us fight for a Sharper Future for all Americans. He knows that our freedoms do not come free and he is hoping to multiply the value of his support two-fold to get us the funding we need."
In its short history, Knife Rights has aggressively advanced the right to own and use knives by passage of the Fifth exemption to the Federal Switchblade Act protecting assisted-opening and one-hand opening folders, passage of Knife Law Preemption in four states, removing bans on automatic knives and other knives in three states and successfully opposing restrictive legislation in four states. Donations from supporters will help Knife Rights continue these activities.
In addition to doubling the value of their contribution, donors will also be entered to win valuable prizes including:
Kimber Ultra Carry II .45 Pistol (Retail Value: $895)
SOG Vision Titanium Arc-Lock Folder (Retail Value: $330)
SOG Creed (Retail Value: $259)
TOPS Knives Pasayten Light Traveller (Retail Value: $179)
TOPS Knives Machete .230 (Retail Value: $100)
Contributions can be made via the Knife Rights web site (www.KnifeRights.org) or by calling Knife Rights at: 866-889-6268 / 602-476-2702
Direct link to Double Your Donation page: http://bit.ly/XajeUV
*Offer void where prohibited. Limit 1 Prize per Person. Donate by December 31, 2012 to be eligible for prizes. Maximum matching donation $50,000. Firearm can only be shipped to an FFL. Go to www.KnifeRights.org for Eligibility and Rules.
ABOUT KNIFE RIGHTS
Knife Rights is America's grassroots knife owners organization and supports legislative initiatives to eliminate irrational restrictions on one of man's oldest and most common tools, decriminalize knife possession and advance the civil rights of America's knife owners.
Knife Rights (www.KnifeRights.org) is dedicated to a Sharper Future for all Americans™.
For more information contact:
Doug Ritter – Chairman
[email protected]
Office: 602-476-2702 Cell: 602-292-0997
 Visit www.kniferights.org