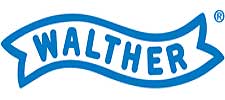 Fort Smith, AR –-(Ammoland.com)- Industry veteran, Mark Thomas, joins Walther Arms as Director of Marketing, according to Cyndi Flannigan, Vice-President of Sales and Marketing for Walther.
Thomas comes to Walther from Kimber Manufacturing where he was Director of Product Marketing. He will report to Flannigan and be responsible for the overall marketing strategy and implementation for the new entity named Walther Arms, Inc.
Arnsberg, Germany based PW Group, owners of shooting sports companies, CARL WALTHER GmbH Sportwaffen and UMAREX Sportwaffen GmbH & Co., announced the formation of Walther Arms, Inc. to handle all the importation, sales, marketing, distribution, and servicing of Walther products in the United States several months ago and is based in Fort Smith, Arkansas. Since 1999 Walther had a strategic alliance for distribution with Smith & Wesson, Inc.
"We're very excited to have Mark join our team as we embark on a new era for Walther Arms in North America," said Flannigan. "He has a unique skill set of marketing, product development and communications for major brands in and out of the firearms industry. He brings a great deal of strategic planning expertise, both domestically and internationally, which will help us launch a new vibrant division."
Owner of over 17 national and regional marketing awards including PR News' "National Communicator of the Year" finalist in 2011, Thomas has a long legacy in the firearms industry. He served as Director of Public Relations for Remington Firearms during the 80s when the brand was in the Du Sporting Goods Division. He was eventually promoted to National Merchandising Manager. More recently, he spent four years with The National Sports Good Foundation as Managing Director of Marketing and Communications where he led re-branding efforts of the trade association for the firearms industry and helped increase membership to record levels through a multi-year trade advertising campaign. He also developed a national marketing campaign to help neutralize a modern sporting rifle ban movement.
Outside the firearms industry, Thomas has led marketing efforts for major consumer brands such as Volvo-Penta, Sea-Doo Watercraft, Invisible Fence and both domestically and internationally for Amadeus GDS, formerly of Continental Airlines. He holds a Bachelor of Science degree in Electronic Media/Journalism from what is now Missouri State University in Springfield, Missouri and he is a longtime hunter and avid shooter.
Entering its 126th year, Walther firearms have earned the trust of law enforcement professionals, recreational shooters, and athletes through its line of reliable PPQ, PPS and PPK pistols in multiple calibers. Whether used by police specialists in Europe or for international competition, the Walther brand is deeply rooted in the psyche and history of the firearm industry.
Visit www.waltherarms.com