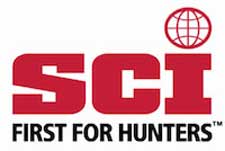 Washington, D.C. –-(Ammoland.com)- Safari Club International (SCI) congratulates the sportsmen and women of Idaho, Nebraska, and Kentucky for ratifying their rights to hunt, trap, and fish.
With over 73% of residents voting "yes" in each of the aforementioned states, sportsmen and women in Idaho, Nebraska, and Kentucky have protected our sporting and outdoor traditions for generations to come.
"Hunters, trappers and anglers have always been, and will remain the backbone of wildlife conservation in North America," said SCI President John Whipple. "SCI is extremely proud of our chapters and members in Idaho, Nebraska, and Kentucky who spearheaded the grassroots efforts to ratify these important constitutional amendments."
The new constitutional amendments provide several protections for hunting, trapping, and fishing including the use of traditional methods, preservation of these activities by law, and the establishment of these activities as preferred methods of wildlife management.
SCI's success is based in the active engagement of its members on critical public policy issues impacting hunters and their rights. Safari Club International welcomes all who share these goals to be part of the dialogue by contacting SCI's Washington, D.C. office at [email protected]
SCI is the only pro-hunting organization with an office in Washington, DC that has full time policy experts, in-house legal counsel and certified wildlife biologists on staff dedicated to the protection of hunting for SCI members and hunters everywhere. SCI's Hunter Defense Fund supports the important work keeping hunters afield and promoting hunting worldwide. Contributions to the Hunters' Defense Fund allow SCI to fight for our freedom to hunt, wildlife conservation policy and important legislative, regulatory and legal issues. Click to learn more and support the Hunter Defense Fund! www.hunterdefensefund.org.
Becoming an SCI Member:
Joining Safari Club International is the best way to be an advocate for continuing our hunting heritage and supporting worldwide sustainable use conservation, wildlife education and humanitarian services. JOIN NOW: www.safariclub.org/Join
Safari Club International – First For Hunters is the leader in protecting the freedom to hunt and in promoting wildlife conservation worldwide. SCI's approximately 200 Chapters represent all 50 of the United States as well as 106 other countries. SCI's proactive leadership in a host of cooperative wildlife conservation, outdoor education and humanitarian programs, with the SCI Foundation and other conservation groups, research institutions and government agencies, empowers sportsmen to be contributing community members and participants in sound wildlife management and conservation. Visit the home page www.safariclub.org or call (520) 620-1220 for more information.