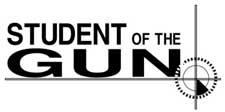 LUVERNE, AL –-(Ammoland.com)- Student of the Gun is pleased to welcome their newest sponsor, Sisk Rifles, LLC. "Building rifles and relationships that last a lifetime" is the stated purpose and motto of Charlie Sisk, owner and founder of Sisk Rifles, LLC. Based in Dayton, Texas, Charlie has been quietly producing some of the finest, most coveted, custom hunting rifles in the nation.
"We are excited to introduce our audience and fans to Charlie Sisk and his excellent products." said Paul Markel, host and producer. "Sisk Rifles has just released a new rifle the likes of which no one has ever seen before. The S.T.A.R. is the most adaptive precision tactical rifle available and we are excited to give our fans an exclusive first look at it."
StudentoftheGun.com is your 24/7 source for all manner of gun related topics. SOTG offers education and entertainment through on-demand video material, online articles, books, DVD's and live-training events. Student of the Gun; a beginner once, a student for life. www.studentofthegun.com
Paul Markel c 2012
Follow Paul Markel at Student of the Gun.com .