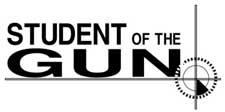 LUVERNE, AL –-(Ammoland.com)- You asked for it and you got it. Student of the Gun has expanded their already comprehensive website with even more On Demand video material.
Not only can you watch the current episode of SOTG directly from the home page, now by clicking the "Archives" button you can watch the previous week's show and complete episodes from the beginning of the season.
Weekly episodes are updated each Tuesday afternoon.
Under the "University" tab you'll find the new "HomeRoom" page. SOTG University HomeRoom is a new offering for those who can't get enough. HomeRoom will feature short form lectures, lessons, and the occasional rant from your favorite professor. New material for the HomeRoom will be posted each Thursday and Saturday.
The SOTG SuperStore powered by Brownells and the expanded "Special Offers" page help to make StudentoftheGun.com your one-stop site for all things gun related. Be sure to keep an eye out for exclusive deals just for SOTG fans.
StudentoftheGun.com is your 24/7 source for all manner of gun related topics. SOTG offers education and entertainment through on-demand video material, online articles, books, DVD's and live-training events. Student of the Gun; a beginner once, a student for life. www.studentofthegun.com
Paul Markel c 2012
Follow Paul Markel at Student of the Gun.com .