Addition brings Farm Bill Wildlife Biologist total to six for the "Show-Me" state.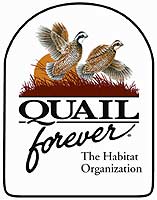 Nashville, Tenn. –-(Ammoland.com)- Quail Forever (QF) and Pheasants Forever (PF) announce the addition of three new Farm Bill Wildlife Biologists (FBWB) in Missouri, bringing the total number of Farm Bill Wildlife Biologists to six.
Casey Bergthold, Mary Crowell, and Scott Engelman will work with Missouri landowners and farmers to implement wildlife habitat conservation measures aimed at increasing quail, pheasant and other wildlife populations.
These positions are made possible through a partnership with Quail Forever and Pheasants Forever, the Natural Resources Conservation Service (NRCS), the Missouri Department of Conservation (MDC), and local QF and PF chapters.
Casey Bergthold
Located in the Shelbyville Field Office, Bergthold covers Shelby, Marion, Monroe and Lewis Counties. Bergthold is a native of northeastern Missouri and holds a B.S. in Fisheries and Wildlife from the University of Missouri-Columbia and a M.S. in Biology from Tennessee Technological University.
Bergthold spent his youth working, hunting and fishing on his family's farm near Santa Fe, Missouri. While he enjoys hunting "almost anything," days spent pursuing upland game and mushrooms are particularly treasured. He joined Pheasants Forever and Quail Forever in October 2011 as a Farm Bill Wildlife Biologist in southeastern Iowa, where he worked primarily with landowners interested in improving or creating wildlife habitat through the Conservation Reserve Program. Casey can be reached by email or at (573) 823-0675.
Mary Crowell
Crowell started with Quail Forever on November 5 and is located in the Ste. Genevieve NRCS Field Office, covering Ste. Genevieve, St. Francois and Perry Counties. Crowell is originally from the St. Louis, Mo., area and graduated with a B.S. in Wildlife Conservation and Management from Missouri State University.
In 2007, Crowell began working as a bobwhite quail monitoring technician for MDC and "fell in love with quail habitat management." In recent years, she worked on the amphibian, reptile and small mammal crew of the Missouri Ozark Forest Ecosystem Project, examining how timber management affects the ecosystem on a landscape scale.
In her free time she enjoys plinking, wildlife photography and hiking in the beautiful Ozarks with her husband and their Australian kelpie. Mary can be reached by email.
Scott Engelman
Engelman started with Pheasants Forever on November 5 and is located in the Milan NRCS Field Office, covering Sullivan, Grundy, Mercer and Putnam Counties. Engelman grew up near Minneapolis, Minn., and holds a B.A. in Environmental Studies with a Biology focus from Gustavus Adolphus College in St. Peter, Minnesota.
Engelman grew up canoeing and fishing in the Boundary Waters Canoe Area (BWCA) of northern Minnesota, hunting upland game across Minnesota and the Dakotas, and spent as much time as he could ice-fishing in recent years.
He currently spends his spare weekends fishing at his family's cabin near Brainerd, Minnesota. Having recently caught his first channel catfish, he is eager to explore what Missouri's natural resources have to offer. Prior to joining Quail Forever and Pheasants Forever, he worked for a private prairie restoration company in central Minnesota, helping to restore native prairie and wetland landscapes in both agricultural and urban settings. Scott can be reached by email.
Click Here for Missouri's Quail Forever 2012-13 Quail Hunting Forecast
Farm Bill Wildlife Biologists are employees of and supervised by Quail Forever, with daily instruction and leadership provided by NRCS and MDC. The Farm Bill Wildlife Biologist Program began in 2003 with four positions and has since grown to over 100 biologists in 18 states.
Missouri is home to 23 Quail Forever chapters and six Pheasants Forever chapters. For more information on Quail Forever or Pheasants Forever in Missouri, please contact Elsa Gallagher, Quail Forever Regional Biologist, at (573) 680-7115 or email Elsa.
Pheasants Forever, including its quail conservation division, Quail Forever, is the nation's largest nonprofit organization dedicated to upland habitat conservation. Pheasants Forever and Quail Forever have more than 135,000 members and 700 local chapters across the United States and Canada. Chapters are empowered to determine how 100 percent of their locally raised conservation funds are spent, the only national conservation organization that operates through this truly grassroots structure.
Quail Forever is dedicated to the conservation of quail, pheasants and other wildlife through habitat improvements, public awareness, education and land management policies and programs.