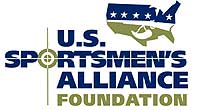 Columbus, OH –-(Ammoland.com)- Election Day has come and gone and Americans have cast their votes. Now politicians will turn their attention from winning elections to governing our country. But how will the outcome of this year's election affect sportsmen?
Federal Update:
After the hundreds of millions of dollars spent on campaigns this year, not much has changed in the nation's capital. This election did not provide the sweeping changes ushered in 2008 or 2010. Instead, while some of the players are new, the overall breakdown by political party remains quite similar to 2011 and 2012.
At the top of the ticket, President Barack Obama was reelected winning 303 electoral votes to former Massachusetts Governor Mitt Romney's 206.
In the U.S. Senate, Democrats increased their control from 53 seats to 55 seats– assuming Angus King (Independent) of ME caucuses with the Democrats as is expected. With or without King, Senate Majority Leader Harry Reid will again find himself in control of Congress' upper chamber.
Jurisdiction over fish and wildlife issues in the Senate is shared between the Energy and Natural Resources Committee (ENR) and the Environment and Public Works Committee (EPW).
The Senate ENR committee will now likely be chaired by Sen. Ron Wyden (D-OR) replacing outgoing Sen. Jeff Bingaman (D-NM). Sen. Lisa Murkowski (R-AK) should remain the senior committee Republican. Insiders expect the committee to operate more effectively with Wyden as he has shown the ability to work across the aisle and take a pragmatic approach to public land issues. Under Bingaman, the committee produced very little legislation and cared little for hunter/angler friendly bills. Sen. Joe Manchin (D-WV) was re-elected and should stay on the committee as well. He and Lisa Murkowski co-sponsored the Senate version of the Recreational Fishing and Hunting Heritage and Opportunities Act (S. 2066 – which designates BLM and Forest Service lands as open until closed for hunting and fishing) and we expect them to continue to work together to move this important bill through the Senate.
On the Senate EPW committee, anti-hunting Sen. Barbara Boxer (D-CA) will continue to hold the gavel in the next Congress, but her GOP counterpart will change. For the past few years, Sen. Jim Inhofe (R-OK) has been the committee's ranking Republican. He is term-limited in this role by Senate GOP rules and is likely to be succeeded at EPW by Sen. David Vitter (R-LA). Both have been friends to hunters.
On the House side, Republicans maintained control of the U.S. House of Representatives. While there are still 25 races that have yet to be decided, House Republican's already control enough seats (226) to ensure they will find themselves in the majority come January.
Key committees for sportsmen include the Natural Resources (with jurisdiction over public lands and U.S. Fish and Wildlife Service) and the Interior and Environment Appropriations Subcommittee (which controls funding of agencies such as Interior and the U.S. Forest Service). Both of these committees will continue to have GOP chairmen. There may be, however, changes in leadership on the Natural Resources committee. Present Chairman Rep. Doc Hastings (R-WA) may move over to the Rules Committee chair. If this happens, Rep. Rob Bishop (R-UT) will likely take the gavel of the Natural Resources Committee. Bishop has been chairman of the Parks and Public Lands Subcommittee and been a strong supporter of access to public lands. The domino effect may allow Rep. Don Young (R-AK) to take over the Parks and Public Lands chair. Young has been a staunch supporter of hunters and anglers, always willing to confront federal agencies on fish and wildlife management and access matters, and a good friend of USSA. Rep. John Fleming (R-LA) should continue as chair of the Fish and Wildlife Subcommittee.
Membership of the Natural Resources Committee is likely to remain the same with one notable change. Rep. Dan Benishek (R-MI), the primary co-sponsor of HR 2834 (the House version of the Recreational Fishing and Hunting Heritage and Opportunities Act), narrowly won re-election and is expected to stay on the committee. Unfortunately, the sporting community is losing its best friend on the Democratic side of the aisle — Rep. Dan Boren (D-OK). He did not seek re-election so his committee seat will be up for grabs.
Overall, the outcome of the election is leading many to worry that the significant political gridlock experienced over the past four years will continue. That gridlock has led to sequestration, a series of looming automatic budget cuts—scheduled to go into effect in January – that would jeopardize $65 million in funding that pay for hunting and fishing programs in every state.
Despite the seemingly challenging climate, the U.S. Sportsmen's Alliance will continue to push for much needed improvements and advancements on sportsmen's issues including a quick and timely solution to the sequestration of our hunting and fishing license dollars.
State Update:
While the national races garnered much of the media attention, sportsmen and women know that their hunting rights are largely debated in the halls of their state capitals.
At the state level, a total of 12 legislative chambers switched party control this year – four to Republican's and eight to Democrats. Of those, five states have now moved to one party control; meaning Republican's/Democrat's control the Governor's office and both chambers of the legislature. This brings the total number of states under one party control to 37.
Of the 11 Governor's races on the ballot this week, only one state has seen their top executive switch parties – North Carolina (from D to R). Montana and Washington state may join the list of states now under one party control, pending the outcome of their yet to be decided Gubernatorial races.
But which party is in control tells just part of the story that sportsmen and women should care about. There is a whole new wave of legislators taking office who likely will not have the same understanding of our issues as their predecessors. It will be up to sportsmen to ensure this new class of lawmakers understands the critical connection between our wildlife conservation and sportsmen and women.
"Sportsmen pay the bills when it comes to conservation and wildlife management," said Evan Heusinkveld, USSA Director of State Services. "We do this through the licenses we buy and the excise taxes we pay. But that's not enough. We must make sure that we educate legislators on this important link. The future of our hunting heritage relies upon it."
With many states still facing challenging economic conditions, there will undoubtedly be legislators tempted to raid the funds that hold our hunting and fishing license dollars to pay for other functions of government – be it building roads, fixing prisons, or updating schools.
While the election may be over, the time for sportsmen to step up is now upon us. The coming weeks and months provide a crucial opportunity to reach out to newly elected office holders and begin the education process about hunting, wildlife conservation and our way of life.
About:The U.S. Sportsmen's Alliance is a national association of sportsmen and sportsmen's organizations that protects the rights of hunters, anglers and trappers in the courts, legislatures, at the ballot, in Congress and through public education programs. Visit www.ussportsmen.org.