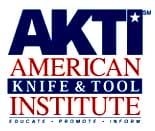 Myrtle Beach, SC –-(Ammoland.com)- Representatives from the American Knife & Tool Institute met with state legislative and other sportsmen's leaders from around the country last week to discuss the issues sportsmen face due to knife restrictions.
Attending the 9th Annual National Assembly of Sportsmen's Caucuses (NASC) Sportsman Legislator Summit were AKTI President Bill Raczkowski, Gerber, and John Larkin, AKTI Legislative Consultant.
The Summit is the largest gathering of state sportsmen and women legislators in the United States and provides a unique opportunity to present concerns to legislators who value a pro-sportsmen agenda. Panel discussions and presentations covered several topics including federal and state policy issues dealing with recreational fishing and current challenges facing recreational shooting. Held this year in Myrtle Beach, South Carolina, participants were able to take some time off for shooting, fishing and other activities that they all care passionately about.
"We realize, as an organization, the vital importance of outdoor activities in the United States and how difficult it would be to participate in most of them without a knife," noted Bill Raczkowski, AKTI President. "Discussing knife law restrictions to legislators who are sportsmen and women and appreciate a valuable tool can be eye-opening for them."

"We had several productive conversations with legislators about their specific state's knife laws and the issues facing the industry," reported John Larkin, "and it was good to get updates from both past and future sponsors of legislation we are interested in. We appreciate the efforts of Rep. Mike Pitts, South Carolina, Rep. Mark Neumann, Alaska, and others who have introduced changes in their states that will benefit all knife owners."

Jeff Crane, President of the Congressional Sportsmen's Foundation stated, "The NASC Annual Sportsman-Legislator Summit provides an opportunity for state legislators, sportsmen organizations and industry-allies to gather and exchange ideas on pro-sportsmen legislation, and other related issues. I want to thank groups like AKTI for their participation and continued support of the National Assembly of Sportsmen's Caucuses and their commitment towards protecting our sportsmen's heritage. Without them, this conference could not be made possible."
Thanks to A.G. Russell Knives, Benchmade, Buck Knives, Blade Magazine, Columbia River Knife & Tool, Gerber, Meyerco, SOG, Taylor Brands, and W.R. Case for providing information that was distributed to everyone in attendance. A special thank you to William Henry for the generous donation of a gentleman's knife provided for the NASC silent auction and continued support.
The National Assembly Sportsmen's Caucus is a network of state legislative caucuses with over 2,000 state legislators who are members, representing 39 state legislative caucuses. The caucus is managed by the Congressional Sportsmen's Foundation, working with Congress, governors, and state legislatures to protect and advance hunting, recreational shooting, fishing and trapping.
For more information, call (307) 587-8296 or visit the American Knife & Tool Institute website at www.AKTI.org. The mailing address is 22 Vista View Lane, Cody, WY 82414-9606. Or follow AKTI at:
https://www.Facebook.com/SaveOurKnives.
https://twitter.com/SaveOurKnives
ABOUT:
The American Knife & Tool Institute (www.AKTI.org) has been the advocacy voice of the entire knife community since 1998, ensuring that Americans will always be able to make, buy, sell, own, carry and use knives and edged tools. AKTI is recognized worldwide as a respected, credible and accurate source of knife legislation information, legislative input, and industry information with a successful, proven record of accomplishments in making effective changes to restrictive knife laws and promoting reasonable and responsible laws and enforcement.