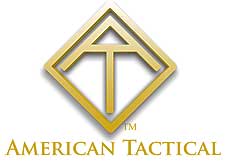 ROCHESTER, NY –-(Ammoland.com)- American Tactical Imports (ATI) will be displaying and demonstrating AdvanTech's newest RFID-based firearms record and inventory system, A&D Secure, at the 2013 Shooting, Hunting, Outdoor Trade ("SHOT") Show and Conference, being held at the Sands Expo and Convention Center in Las Vegas January 15-18. A&D Secure can be seen at ATI's booth #16538.
ATI is the first US distributor in the industry to offer this technology through AdvanTech, Inc., a software development company and the creator of the RFID (Radio Frequency Identification) system.
A&D Secure software uses RFID technology for firearms distributors and retailers to better handle their Acquisition and Disposition (A&D) records requirements. The software tracks all ATF-monitored items from the manufacturer to the end user, records the chain of custody automatically and adds layers of security. The desire to reduce or eliminate ATF and State Department violations, improve department personnel job satisfaction and security, reduce labor cost and administrative activities, and provide an impressive ROI along with instant 24/7/365 inventory is balanced with the world-class protection built into the program. Most importantly, the end-users will still have their privacy maintained while only the records required by law are safely and securely tracked during the buying and selling processes.
Headquartered in Annapolis, MD and doing business across the United States and Canada, AdvanTech, Inc. was founded in 1996 with the objective to provide "advanced technology for competitive performance." AdvanTech's focus is meeting industry needs through designing and developing information systems. AdvanTech strives to meet customer needs using state-of-the-art technology, including Radio Frequency Identification (RFID).
RFID technology allows assets to be tagged with a unique identification number embedded into a microchip on the RFID label. This enables the asset to be tracked throughout the supply and distribution chain. In addition to systems development, AdvanTech also provides management consulting and systems implementation support to a wide variety of industry-leading firms as well as state and federal government agencies.
To learn more about AdvanTech and RFID technology, visit www.advantech-inc.com or http://rfid.advantech-inc.com.
For more information regarding this product available from American Tactical Imports, please visit www.americantactical.us