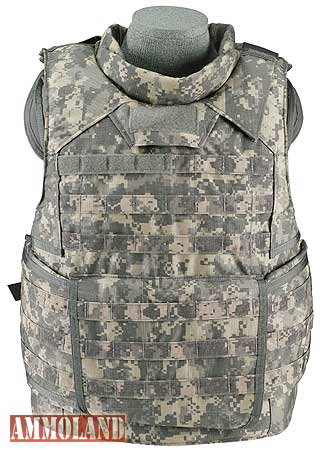 JESSUP, Pennsylvania –-(Ammoland.com)- BAE Systems has received a $35 million order from the U.S. Defense Logistics Agency (DLA) for the production of tactical vests equipped with body armor.
Improved Outer Tactical Vests (IOTV) include both soft-armor ballistic inserts and hard-armor plates, which provide Soldiers with lighter weight, advanced features and increased mobility in the field.
"This tactical vest is a necessary and life-saving piece of equipment for the Soldier," said Eric Gavelda, director of Warfighter Protection at BAE Systems' Protection Systems business. "The vest helps shield vital organs and protect against a variety of battlefield threats. Our ultimate goal is to help our warfighters return home safely to their families."
The IOTV is the most widely deployed bullet and fragmentation protection soft armor system for the Department of Defense. Since 2007, BAE Systems has produced more than 800,000 outer tactical body armor vests for U.S. troops serving in Iraq, Afghanistan and around the world.
DLA Troop Support ordered the vests as part of a four-year contract issued in March, which could reach a cumulative value of $267 million.
BAE Systems has thus far received a total of $83 million under the contract. Production will occur at the company's Jessup, Pennsylvania facility, and this order is scheduled to be complete by October 2013.
BAE Systems Protection Systems is a leading provider of Soldier protective and load carrying equipment in the United States, producing a significant portion of the nation's body armor, tactical vests, combat helmets and load carrying systems.
The company is focused on the design, development and production of leading edge survivability products. Its integration of advanced materials into manufacturing, rigorous product testing and field trials support BAE Systems' focus on the men and women who serve in the armed forces.