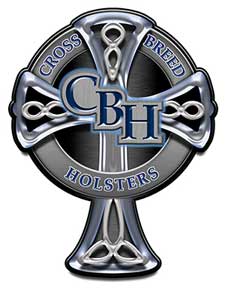 Republic, MO –-(Ammoland.com)- Top quality holster manufacturer CrossBreed Holsters, LLC is proud to announce their renewed sponsorship of Special Hog Weapons and Tactics (SHWAT).
When CrossBreed first signed on as a Founding Sponsor, SHWAT looked like a good concept. Almost a year later, its presence online is where tactical shooting sports and hog hunting intersect. Based on the growth demonstrated in part by SHWAT's Google Analytics and click through rates, Crossbreed increased its sponsorship investment 250%. In addition to displaying ads as a sponsor, CrossBreed will weigh in on various topics as content for SHWAT.
SHWAT is excited to announce its new online SHWAT Gear Store for Swag just in time for Christmas shopping! Shooters, trainers, and hunters of all stripes love the SHWAT logo and graphics. Now the branded gear, T-shirts, hats and stickers, can be purchased online.
Special Hog Weapons and Tactics describes itself as the center of gravity for tactical hog hunting and gear. Writers include the SHWAT Founders, an NRA Field Editor, a certified Tactical Medic, a PhD outdoors writer, a tactical trainer, the founder of a major firearms manufacturer and others. The SHWAT media kit is available here.
To learn more about SHWAT, go to SHWAT.com, visit the Facebook page at facebook.com/SHWATteam, the SHWAT YouTube channel www.youtube.com/theSHWATteam or contact [email protected] or 214.699.1131.
For more information and to view the full lineup of CrossBreed products, visitwww.crossbreedholsters.com.