Vestavia AL –-(Ammoland.com)- A good friend of ours, John E. Phillips, is allowing us to give you a Christmas present of his kindle e-books "The John E. Phillips Sampler" and "Deer & Fixings."
This Free E book for readers of AmmoLand Shooting Sports News is good December 25th to 27th 2012.
All you have to do to get this free Christmas present go to www.amazon.com, type in the names of the books and download them for free. Or follow the links below.
The John E. Phillips Sampler: Hunting, Fishing and More:
In this book, award-winning author John E. Phillips gives you an opportunity to look inside eight of his newest outdoor books.
In:
Chapter 1, you'll meet deer hunter Michael Ahlfeldt, who teaches you how to find and take the buck of a lifetime with your bow;
Chapter 2, you'll not only read bass pro Kevin VanDam's secrets for consistency in bass fishing, you'll actually get to click on a video to see and hear him talk about how he consistently wins bass tournaments year after year;
Chapter 3, Greg Miller, one of the nation's best-known whitetail hunters, will tell you how he hunts and takes PhD whitetails – some of the smartest hunter-dodgers in the world;
Chapter 4, Wayne Carlton, one of the nation's best-known elk hunters and elk callers, will teach you how to find a big bull elk;
Chapter 5 you'll learn how to hand-grab catfish and see videos of guys and girls catching big flatheads in Mississippi;
Chapter 6, you'll not only learn how to set-up on gobblers, but be able to view videos with Harold Knight, co-founder of Knight and Hale Game Calls and a man who's spent his entire life hunting turkeys;
Chapter 7, you'll learn tactics for catching speckled trout from public reefs anywhere;
Chapter 8, Scot Hollonbeck will show you the true meaning of courage – how to find it, and what to do once you've gained it.
This sampler enables you to take a brief look into the outdoor world of John E. Phillips and some of the celebrities and top-notch outdoorsmen he's met, interviewed, learned from and written about for more than 40 years. This sampler tells their stories to help you have more success in hunting, fishing and the world of the outdoors. Get you copy here: http://tiny.cc/pchupw
Deer & Fixings: How to Cook Delicious Venison
This venison cookbook is the combined cooking knowledge and experience of more than 90 years of testing and preparing delicious venison dishes that are heart-healthy, low in fat and calories and high in protein. Learn how to field-dress a deer, how to prepare and cook deer meat and what side dishes to serve with your wild game. This guide contains more than 100 venison recipes prepared with ground venison, venison loins, venison roasts, venison steaks and venison stew meat, along with over 150 vegetable, soup, appetizer, salad, bread and dessert recipes that will combine with your venison main course to create delicious meals.
These recipes are made with easy-to-find ingredients and are great ways to use your freshly-taken venison, or to clear-out the leftover venison you have in your freezer. Most recipes are on one-page each, so you can lay your tablet or phone on the kitchen table and follow the directions for the recipe. Too, you can download the book on your SmartPhone, lay your phone on the kitchen counter and read the directions for each recipe. E-books make taking your cookbooks with you anywhere easy! Many of these recipes can be prepared at home and taken to the deer camp or the fishing camp to be enjoyed at a later date.
Get you copy here: http://tiny.cc/jjhupw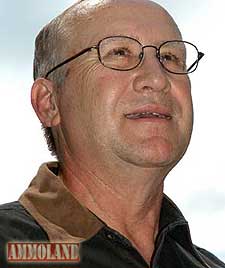 About John E Phillips:
The author of almost 30 books on the outdoors, many on Amazon, Phillips is a founding member of the Professional Outdoor Media Association (POMA) and an active member of the Southeastern Outdoors Press Association (SEOPA). Phillips also is the owner of Night Hawk Publications, a marketing and publishing firm, and president of Creative Concepts, an outdoor consulting group. Visit him Online at www.nighthawkpublications.com