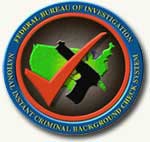 Washington, DC –-(Ammoland.com)- Good afternoon!
First of all, thank you so much for your continued patience with FBI NICS, our system and staff. The volume of incoming transactions (gun background checks) has and continues to be unprecedented.
Here at the FBI, we continue to strategize on processing changes that will allow us to optimize our resources and finalize as many transactions as we can.
Since Black Friday, November 23, 2012, the FBI NICS Section has experienced an equivalent of five Black Fridays (more than 155,000 transactions each day). The number of delayed transactions are significantly higher than ever in the history of the NICS. On average, about 3/4 of all transactions receive an immediate determination. The remaining are then transferred to the FBI, in an attempt to provide a final status, if possible.
As of 3:15pm, EST today, (12/26/2012)  it has become necessary for the NICS Section to have our staff focus on the transactions in the delay queue so that we have an improved chance of reviewing those transactions before the expiration of the third business day. Therefore, you may notice a small change in how some of your transactions are handled as those requiring further review will not immediately be transferred on to the FBI NICS Section. Rather they will automatically be placed in delay and will be worked in the order received. We apologize for any inconvenience this may cause you but hope that you understand why this temporary change is being implemented.
We are committed to resolving all transactions as quickly as we possibly can and appreciate your continued patience and support. Thank you.
One request please, when conducting your NICS Background Checks, please do not duplicate the transaction by calling the NICS Contracted Call Centers (NCCC) multiple times or calling the NCCC and then doing an E-Check transaction on the same transaction.
This can be considered misuse of the NICS and only adds to the workload which in turn slows down the final statuses from the NICS Section to you.
Kim Brown
NICS Section FFL Liaison Specialist