By Rabbi Judah Freeman, JPFO Staff Writer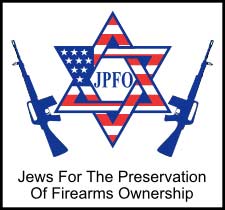 Washington, DC –-(Ammoland.com)- It's Chanukah, perhaps the most widely celebrated and enjoyed Jewish holiday worldwide.
While large percentages of the Jewish people attend a Passover meal or fast on Yom Kippur, no Jewish ritual is as diligently observed as the lighting of the Chanukah candles.
For eight nights starting on the 25th of Kislev (Saturday night, December 8 in 2012), Jews will light Chanukah candles, starting with one candle on the first night and increasing daily up until eight candles are lit on the last night. What's so remarkable about this candle-lighting ceremony is not just its ubiquitous observance but the fact that all of the Jewish people observe it with the utmost stringency.
Like many Jewish practices, there are different levels of observance with regard to Chanukah. On Passover, you can eat the minimum quantity of matzo on the first night (one piece, about the equivalent of a piece of bread), or you can feast on matzo throughout the week for two dozen meals. There is a spectrum of observance, and only a small percentage of Jews are stringent to have matzo at every meal for the entire week.
On Rosh HaShanah (the Jewish New Year), most Jews hear the blowing of the shofar (a ram's horn — see Lev. 23:23-25 and Num. 29:1-6), but only among the Orthodox is it common to sound the full 100 blasts of the shofar.
On the Feast of Tabernacles (Sukkos), you can find "fruit of a goodly tree, branches of palm, boughs of thick trees, and willows of the brook" (Lev. 23:40) in every synagogue, but only in some 10% of Jewish homes will you find them daily both in the synagogue and in the home.
But on Chanukah, it is estimated that some 90% of Jews light candles each night. And we don't just light candles, we do so according to the most stringent proscribed custom in Jewish tradition, filling our homes with increasing light each night.
Let us remember this Chanukah the lessons that the Maccabees taught us — that we must be strict and stringent not just with regard to ritual observances like Chanukah candles but with regard to the protecting of the life of the innocent. The Maccabees waged a fierce battle against Greek incursion on Jewish sovereignty and taught the Jewish people that defense of life overrides Sabbath prohibitions. May we too remember that life is sacrosanct, that it is worth protecting, and that we must maintain the tools and ability to do so.
In modern times, here in the United States, that means that we must protect and preserve our Second Amendment rights — the right to keep and bear arms in defense of self, in defense of family, in defense of property, and in defense of our religious and personal freedom. May we never see the day when we must take up our arms as did the Maccabees in defense of our religious way, and may we never see a time when we give up or lose the ability to do so.
Happy Chanukah!
Rabbi Judah Freeman
Staff Writer, JPFO
Yours in Freedom, The Liberty Crew at JPFO
Protecting you by creating solutions to destroy "gun control"
About:
Jews For The Preservation Of Firearms Ownership Mission is to destroy "gun control" and to encourage Americans to understand and defend all of the Bill of Rights for everyone. Those are the twin goals of Wisconsin-based Jews for the Preservation of Firearms Ownership (JPFO). Founded by Jews and initially aimed at educating the Jewish community about the historical evils that Jews have suffered when they have been disarmed, JPFO has always welcomed persons of all religious beliefs who share a common goal of opposing and reversing victim disarmament policies while advancing liberty for all.
JPFO is a non-profit tax-exempt educational civil rights organization, not a lobby. JPFO's products and programs reach out to as many segments of the American people as possible, using bold tactics without compromise on fundamental principles. Visit www.JPFO.org – Copyright JPFO 2011