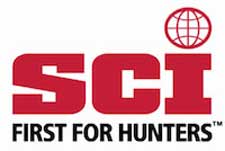 Tucson, Ariz. –-(Ammoland.com)- Safari Club International (SCI) welcomes once again MidwayUSA as one of its premier sponsors of the world's greatest convention dedicated to North American and International hunting, the 41st Annual Safari Club International Hunters' Convention.
"Without organizations like SCI to play an important role in effective conservation efforts, our children and grandchildren won't be able to enjoy hunting and shooting sports," said Larry Potterfield, Founder and CEO of MidwayUSA. "As fellow hunters and conservationists, Brenda and I believe it's our duty to support these organizations that help support our future way of life."

"Larry, and the entire MidwayUSA family, have dedicated their lives to providing the highest quality hunting equipment to hunters around the world, and as an international advocacy organization, we know that our partnership will protect hunting for future generations," stated John Whipple, SCI President.

"We are excited to once again support SCI and all the vendors at the 41st Annual Hunters convention. Brenda and I would like to encourage everyone to attend!" concluded Larry Potterfield.
Learn more about the 41st Annual Hunters' Convention events January 23-26, 2012 in Reno, Nevada, visit www.ShowSCI.org. Register now to take advantage of any advance ticket and registration early bird special rates! Tickets for the 2013 evening entertainment are being sold faster than any show in SCI's history.
Becoming an SCI Member:
Joining Safari Club International is the best way to be an advocate for continuing our hunting heritage and supporting worldwide sustainable use conservation, wildlife education and humanitarian services. JOIN NOW: www.safariclub.org/Join.
Safari Club International – First For Hunters is the leader in protecting the freedom to hunt and in promoting wildlife conservation worldwide. SCI's approximately 200 Chapters represent all 50 of the United States as well as 106 other countries. SCI's proactive leadership in a host of cooperative wildlife conservation, outdoor education and humanitarian programs, with the SCI Foundation and other conservation groups, research institutions and government agencies, empowers sportsmen to be contributing community members and participants in sound wildlife management and conservation. Visit the home page www.safariclub.org or call (520) 620-1220 for more information.