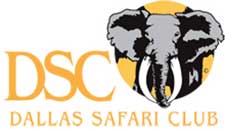 DALLAS TX –-(Ammoland.com)- —Wildlife, adventures and conservation issues from around the globe headline a roster of seminars at the Dallas Safari Club (DSC) convention and expo, Jan. 3-6 2013.
Each seminar is part of the public-welcome DSC expo at the Dallas Convention Center.
The DSC expo is an annual hunter's extravaganza, now with more than nine football fields' worth of opportunities for outfitted hunts and other adventures, gear, firearms, art, collectibles, entertainment, seminars and more. Get details at www.biggame.org.
Scheduled seminar presenters include Dr. James Kroll, Dr. Dale Rollins, Craig Boddington, Ivan Carter and other well-known authorities in their respective fields.
A partial list of seminar titles:
• Quail Restoration in North Texas: An Active Approach
• A Rhino Conservation Project and the Global Threat of Poaching
• A Trophy Whitetail Management Plan That Works
• Fierce Fishes of the Amazon
• Trophy Room Design
• Archery for Big/Dangerous Game
• Shotgunning: Improving Your Percentage in the Field
• First Time Safari
• Hunting Coues' Deer: Gray Ghost of the Desert
• Choosing the Proper Knives for Outdoorsmen
• Wilderness First Aid
• Shooting, Hunting and Fishing in Argentina
• Fly Fishing the San Juan River in New Mexico
The full list of seminar titles, descriptions and schedules is available at the URL below: 
http://www.biggame.org/index.php?option=com_content&task=view&id=85&Itemid=58
Admission is $20 per person per day (multi-day discounts are available) and free for children under 12 and active-duty military with ID.
Expo hours are Jan. 3—10:00 a.m. to 6:00 p.m., Jan. 4—10:00 a.m. to 6:00 p.m., Jan. 5—9:00 a.m. to 6:00 p.m., and Jan. 6—10:00 a.m. to 4:00 p.m.
Weatherby Foundation International recently announced that its prestigious Weatherby Award will be presented in conjunction with the DSC convention and expo beginning in 2014.
Sponsors for the 2013 DSC convention and expo include Orion, Sports Afield, Midway USA, Trijicon, The Hunting Consortium, Capital Farm Credit, Zeiss, The Wildlife Gallery, Ruger, Rock Island Auction Co., Sovereign Bank, EuroOptics, Rungwa Game Safaris, RBC Wealth Management, Yamaha, Blaser, Boyt Harness and others.
About Dallas Safari Club (DSC)
Desert bighorns on an unbroken landscape, stalking Cape buffalo in heavy brush, students discovering conservation. DSC works to guarantee a future for all these and much more. An independent nonprofit organization since 1982, DSC has become an international leader in conserving wildlife and wilderness lands, educating youth and the general public, and promoting and protecting the rights and interests of hunters worldwide. Get involved at www.biggame.org.