 Salt Lake City, UT –-(Ammoland.com)-The Silencerco Osprey suppressor was designed with 3 goals in mind.
Industry leading sound suppression
low profile/less target obscuration
versatility
The Ospreys unique shape has roughly 30% more internal volume than a conventional round suppressor of similar caliber.
Combine the extra volume with our advanced monolithic core and the user will enjoy industry leading quiet.
The osprey's unique Eccentric shape is low profile on the gun and has less obscuration of the target.
Typical round suppressors obscure both the sights and the target, making accurate fire more difficult. The osprey is more usable with factory sights than any other suppressor on the market.
All ospreys use the same piston assembly, which means that thread pitch and caliber choice are up to the user. Smaller diameter projectiles can be fired through the core , meaning the 45Osprey can be used with 9mm, .40 and .45 simply by purchasing additional pistons with the correct thread pitch. This feature makes the Osprey extremely versatile
For all these reasons, the Osprey has quickly established itself as the industry benchmark for centerfire handgun suppression.
See the Osprey in action: https://www.youtube.com/watchv=1cEn5_Kce_Q&feature=share&list=PL081286A062C1D2D3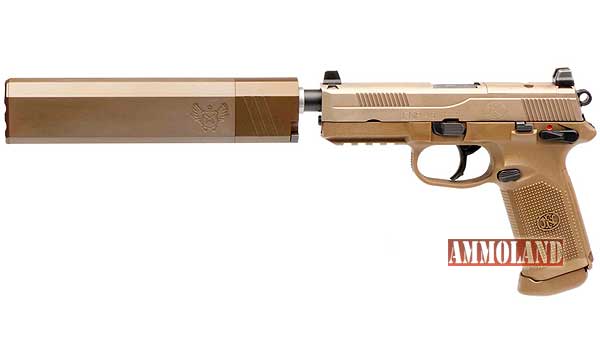 About SilencerCo/SWR
SilencerCo was formed in 2008 by Joshua Waldron and Jonathon Shults when they learned that the military released a solicitation stating it wanted all firearms deployed to be silenced. Silencerco was then founded with the mission to provide the civilian, military, and law enforcement customers with premier silencers. Employing unconventional thinking to inspire innovation and creative solutions, to improve product function, ease of use, and maintenance Silencerco is now the largest silencer manufacturer in the country for civilians and they are continuing to make progress in acquiring military contracts.
Read about silencer laws, uses, and benefits at www.silencersarelegal.com and learn more about Silencerco/SWR at www.silencerco.com and www.swrsuppressors.com