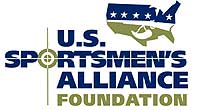 Columbus, OH –-(Ammoland.com)-  The U.S. Sportsmen's Alliance is searching for a few good men—and women— who have a strong interest in supporting and saving America's hunting heritage.
We need volunteers to visit clubs, attend sportsmen events and hunting and fishing shows, work at fundraiser events, and staff prestigious shooting and hunting events across America. Volunteers are also sought to work at Trailblazer Adventure Program youth events—and more.
We sincerely hope you will be willing to help us out with a donation of your valuable time. For example, at the Trailblazer Adventure Program youth events that introduce kids to outdoor experiences, we are seeking someone to operate stations that teach shooting, archery, fishing, hunting dogs, trapping, game calling or other outdoor interests.
Come share your talent and passion with the next generation. Numerous Trailblazer events are planned from coast to coast in 2013.
We'd like to hear from you, and use your talents. Contact the U.S. Sportsmen's Alliance at 614-888-4868 or e-mail [email protected].
About:The U.S. Sportsmen's Alliance is a national association of sportsmen and sportsmen's organizations that protects the rights of hunters, anglers and trappers in the courts, legislatures, at the ballot, in Congress and through public education programs. Visit www.ussportsmen.org.