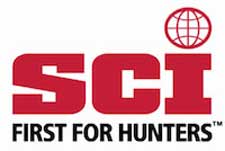 Washington, D.C. –-(Ammoland.com)- Due to overwhelming demand by sportsmen and women to attend the inaugural Hunter Defense Fund luncheon, Safari Club International (SCI) is adding additional seating to accommodate every hunter who supports the protection of our hunting freedoms.
The inaugural Hunter Defense Fund (HDF) Luncheon will be held on Saturday, January 26, 2013 from 11 a.m. to 1:30 p.m. at the 41st Annual Safari Club International Hunters' Convention in Reno, Nevada.
"The Hunter Defense Fund is positioned to become the most powerful advocacy tool for hunters across the country," said Jeff Kimbell, chairman of Hunter Defense Fund. "No matter whether you are a deer hunter in Texas, a pheasant hunter in South Dakota, a bear hunter in Nevada, or an American hunter who enjoys the sport overseas — the Hunter Defense Fund is your new resource to protect hunting."

"At Safari Club International, we have been protecting hunters' freedoms for over a generation. The Hunter Defense Fund will take advantage of the latest developments in political campaign finance law to offer laser-focused strategies to support pro-hunting policymakers," continued Kimbell.

"If you care about your hunting heritage as much as I do, then join me in Reno, Nevada at the Inaugural Hunter Defense Fund Luncheon," said SCI President and HDF Gold Level Sponsor John Whipple. "Some organizations claim to protect hunting, but they simply do not have the tools or top-class professionals to successfully protect your hunting freedoms."

"I hope that every hunter, outfitter, and manufacturer who attends the greatest hunting convention knows they need to be at the Hunter Defense Fund Luncheon on January 26," concluded Whipple.
The Hunter Defense Fund luncheon will open its doors at 11 a.m. and run until 1:00 p.m., with a live auction and a keynote address from award winning outdoor writer, wilderness guide, and outfitter Jim Shockey. The event is not to be missed. Any hunter or company concerned about the future of hunting, management of our public lands, or fighting back on the anti-hunting extremists, can purchase a table or individual tickets. Please go to www.ShowSCI.org to find out how.
2013 Safari Club International Hunter Defense Fund Luncheon & Auction Program
About the Hunter Defense Fund
Safari Club International Hunters' Defense Fund supports the important advocacy, conservation and legal work keeping hunters afield and promoting hunting worldwide. Donations to the Hunters' Defense Fund have a direct impact on our freedom to hunt, wildlife conservation policy and important legislative, regulatory and legal issues. DONATE NOW: www.hunterdefensefund.org