Puyallup, WA –-(Ammoland.com)- After extensive development, Blade-Tech Industries, the leading manufacturer of custom thermoplastic and injection molded tactical holsters, knife sheaths and magazine pouches is proud to announce it has partnered with Kiesler Survival Solutions, a division of Kiesler Police Supply and Kiesler Defense, to manufacture a Tourniquet Holster Duty Rig especially for Frontline responders.
This new design allows officers to have a life-saving tourniquet easily accessible when and if the need arises.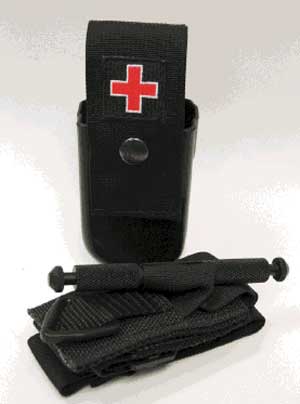 This new Tourniquet Holster is based on a concept and design by Chip Kruer, Kiesler's Vice President, and Kiesler Survival Solutions Director who is TCCC certified (Tactical Combat Casualty Care) designer.
It is made to be worn on the duty belts of virtually all First Responders, from Law Enforcement Officers to Emergency Medical Technicians. The Tourniquet Holster is engineered to carry the SOFT-T, SOFT –T Wide and CAT Tourniquets.
The new Tourniquet Holster is a molded thermal plastic, hard sided carrier that can be worn vertically or horizontally on the belt using Blade-Tech's popular Tek-Lok hinged attachment.
To secure the Tourniquet, the carrier is molded to have a friction fit with additional retention added with a sewn nylon snap strap across the top of the holster. The retention strap is clearly marked with a Red Cross for quick identification.
This new Tourniquet Holster is proudly made in U.S.A. by Blade-Tech Industries and sold exclusively through Kiesler Police Supply.
If you would like to purchase or know more about the Tourniquet Holster, please visit: http: WWW.KIESLERPOLICESUPPLY.COM
All Blade-Tech products are light and comfortable while remaining tough and durable. All gear is custom designed to exacting detail. Blade-Tech uses rigorous field-testing on all its products, conducted by firearms instructors, law enforcement and military personnel. Blade-Tech also produces its own line of quality field knives. www.blade-tech.com