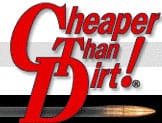 Fort Worth, Texas, USA –-(Ammoland.com)-Consumer reaction to the political rhetoric after the shooting in CT caused a rush of online orders at Cheaper Than Dirt! which led to the largest backlog in the company's history.
Cheaper Than Dirt! management had no choice but to suspend firearm sales while examining ways to meet customer demand and maintain the careful and lawful processes established.
Firearm sales require a significant amount of individual attention compared to the automated system for non-firearm products. Firearm orders were being placed faster than the inventory system could update, potentially leading to an overselling situation and cancellation of orders on a very large-scale.
Ammunition and shooting accessories orders more than tripled, resulting in week-long shipping delays. Since firearms sales are a much smaller portion of its sales and require more resources, the decision was made to utilize personnel in areas that would make the most impact servicing customers.
The past three weeks have been spent catching up on the tremendous backlog of orders, training additional staff and increasing inventory back to acceptable levels.
Firearm sales will resume on a limited basis beginning Tuesday, January 8, based on available inventory.
The selection will increase as more firearms become available. Specifically, firearms that are in high demand are not currently available from manufacturers due to the lack of inventory. This includes most modern sporting rifles.
Cheaper Than Dirt!'s goal is to maintain the level of service customers have come to expect.
Cheaper Than Dirt! prides itself on being America's Ultimate Shooting Sports Discounter since 1993. Cheaper Than Dirt! boasts over 100,000 items available for purchase through their Web site and catalog. Articles, photos and videos appear daily on the Shooter's Log at www.CheaperThanDirt.com/blog