Obsolete Arms and Ammo
By Bob Shell
Apache Junction, AZ –-(Ammoland.com)- The day before the SHOT show starts there is a media shoot which gives us an opportunity to handle and shoot new guns.
I stop at Colt to see what they had on hand. Immediately I saw an attractive single action in 45 Colt, which is one of my favorites.
Upon examining it and some shooting, I know that I had to have one to evaluate and write about. It is that nice. So I put my request in to receive one.
Sometime later, the Colt Single Action New Frontier finally arrived. Upon opening, I was reminded on why I liked it so much.
It is an attractive gun with a case hardened receiver while the rest of the metal parts are blue. The wood grips have the Colt medallion in gold color. The fit and finish are of high quality, which you would expect of a gun in this price range.
It is a typical Colt single action with a couple of upgrades. The sights are adjustable and it has the safety to avoid one going off in case it is dropped. It holds 6 rounds of 45 Colt ammo with a 4 & 5/8 inch barrel on my sample. Colt made the New Frontier from 1890 to 1981 so this is a reintroduction of that model. It is also known as the flat top model and is also available in 44 special and 44-40.
According to my gauge the trigger broke at 3 Lbs. and was consistent. There was virtually no creep or mush in the trigger which is a major aid in accurate shooting.
It is one of the better triggers I have encountered in a single action revolver.
There are four positions that the hammer can be placed in. The first notch locks the cylinder and may be some sort of safety second notch rotates the cylinder. Colt came out with the revolver as we know it in 1836 with the cap and ball model. It was improved until 1873 when the 45 came out in their single action which is still being produced today and is essentially the same.
It is one of the most recognizable handguns ever produced. My gun shows a patent date of 1873 in spite of it being new.
LOAD – BULLET – VELOCITY – COMMENT
12 X Herco – 200 grain Raanier – 1128 – accurate
Ten X black powder – 250 grain lead – 674 – accurate
Ten X smokeless – 200 grain lead – 648 – mild
Winchester – 250 grain lead – 796 – consistent
36 X FFFG – 255 grain Hornady .454 – 715 – nice
42 X FFFG – 250 grain cast – 702 – accurate
8 X Unique – 250 grain cast – 744 – accurate
Shooting the Colt with these loads proved to be a pleasant experience as recoil was mild and accuracy is good. I shot other loads during the test and everything was accurate that showed good accuracy but they hit to different points on impact. That is in no way a fault as I tried a verity of loads including black powder.
The Ten X loads shot well and if you are looking for some good cowboy loads I suggest you give them a try. For info on their line of ammo you can go to www.tenxammo.com for info.
Bullets used were .452 in diameter except the Hornady which is .454. That was the original diameter of the old Colts. I used Goex black powder, which gave good accuracy and consistency, but the velocities were lower than I expected. With these light loads you can shoot all day comfortably.
Also I shot quite a few Ranier bullets as they are not lead or as expensive as conventional jacketed slugs. As always they shot very well and were accurate. I would suggest that you give them a try and you won't be sorry. For more info on their fine products you can go to www.rainierballistics.com.
The grip is a bit small for my hand but there are plenty of aftermarket accessories to resolve that problem.
With the mild loads I contemplate, shooting larger grips are not needed. If I want more powerful loads I have a Ruger and Freedom Arms to use. At 15 yards offhand careful shooting will produce groups in the neighborhood of an inch. The action and trigger are very smooth indicating that some time was spent on the action. Everyone who shot it was favorably impressed. Since the action is essentially the same one that came out in 1873 there will no hot loads used in this test. I have shot a 45 Colt that was made in the 1880's and it felt very similar to this new one. The only difference was it had a longer barrel and fixed sights.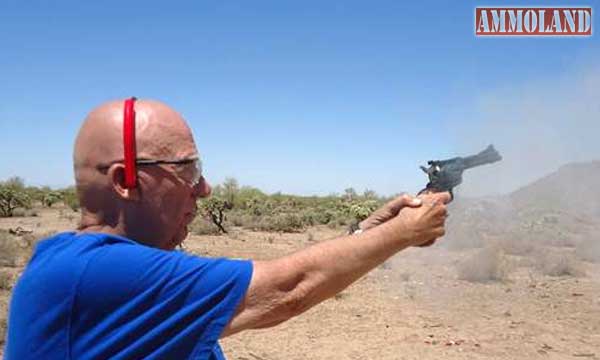 The Colt has a tendency to point naturally, another plus. I would not feel that I was at a disadvantage in a home defense situation. With its point ability and large bullets it should settle an affair rather easily
I can't think of any downside to this gun except the price. Suggested retail starts at $1400 depending on where you buy it www.coltsmfg.com/Catalog/ColtRevolvers.aspx for more info.
About Bob Shell
A Custom Reloader of Obsolete and Antique Ammo, Bob Shell, writes about the subject of Guns, Ammo, Shooting and Related Subjects. Visit: www.bobshellsblog.blogspot.com