Written by: D. I. (Ian) Hay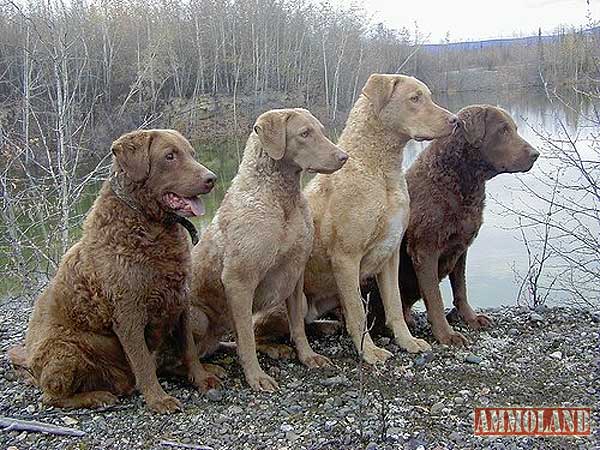 Lytton, BC –-(Ammoland.com)- Well, I wonder just how many times this question has crossed our minds over the years – a great many, I would hesitate to guess.
If we are not introduced to the shooting sports (Upland or Waterfowl) by someone who was very knowledgeable and really respected the birds they were hunting, then we probably struggled with the recovery of wounded and killed game birds.
I am going to dedicate this article to 'bird' dogs and leave the hounds to someone much more knowledgeable than I, in that field.
Well, decisions do not come easily or cheaply, when it comes to our beloved sport of hunting. Usually there are much more important aspects of life on which to spend our hard earned cash. One of the hardest decisions, which to make is – am I an upland or a waterfowl hunter? Wow, that has the tendency to separate the men from the boys – as most of us want to hunt both – right? Well, with the versatility of today's gundogs, one can decide upon a breed, which may excel in one area, but either able to do the other type or can be trained to do so. What was that word you just used "trained". That sounds difficult, how much time is that going to take out of my already busy life; I hardly have time for sleep, let alone training a dog? Well, you will be glad to know that owning and looking after a hunting dog can really be a family affair. We all know the majority of families residing in North America have at least one pet in their household. Now I am speaking about those who live in their own house – usually apartments ban the owning of pets.
So, let's just back up a bit – let us decide on the breed of dog most suited to our needs. This will probably lead to a choice which, in most cases, will have an effect on our lives for the next ten plus years or so. Well, we have several choices to begin this journey. A quick look at the Canadian Kennel Club and\or the American Kennel Club websites, should provide one with a list of the National Breed Clubs. So, knowing that dog people love to talk about their particular breed and its working habits, an email to one of these Clubs should result in you receiving all the necessary details regarding their breed. This gathering of information, just may narrow your field of choice down a bit, but probably not too much.
Next we can contact our local Veterinary Clinic and ask if there are any local dog clubs, which are devoted to hunting dogs. If we are fortunate enough to have one locally, then we will have people to rely upon to assist with training. It also will open up the door to meet new friends and even new hunting partners. Here is where it may get a little biased. If you have a pointer club in your area, most likely you will swing to one of the pointer breeds. The most popular are the English Pointer, German Short-Hair Pointer, Brittany Spaniel (only pointing spaniel), German Wire-Hair. English Setter and there are more on the list. But, you may run into a retriever club – there seems to be a lot of them these days and that is directly due to the presence of the Hunt Test Program, but more on that later.
Let's say we settle on a retriever – although I have owned Brittany Spaniels, my true love and devotion is with the retriever breeds. The retrievers are more of a 'partner' and family member than the pointers. This can be attributed to the pointer always working on its own and usually quite a ways in front of the hunter. Whereas, the retriever works only on command and in most instances from the hunter's side, although they are excellent flushers also. So, we have several breeds to narrow down the search – the Labrador Retriever is the most popular breed (for hunting, but also as a family pet), we also have the Golden Retriever who is second to the Labrador. Next we have the Chesapeake Bay Retriever followed by the Flat-Coated Retriever and also the ever popular Nova Scotia Duck Toller, which is gaining in popularity in leaps and bounds.
Let us break it down a little further. The Labrador Retriever comes in three distinct colour phases – black, yellow and chocolate. All originate from the black phase and the other colours only appear if the dam and sire carry the necessary genes. The Golden Retriever comes in one colour, but the 'shades' vary. Also the "field" Golden will be a bit smaller than its show cousin. It is unfortunate that with both the Labrador Retriever and the Golden Retriever that such a division has emerged between the conformation (show or bench) and the field dogs. Both sports have their place and the two should be merged. The Labrador Club of America is trying to have all of its members strive to place both a minor field title as well as the bench\show title. The show title depict the dog possesses all the traits required for that bred – height, colour, gait, etc. Whereas, the field dog has been bred for memory, trainability, speed and endurance. Maybe someday we all will forget our differences and produce dogs which work well and satisfy both arenas.
Wow, we sure have a lot of information to digest – but wait, there is more to come. One thing, which is of great importance when making this critical decision and that is to take one's time and carefully weigh all the pros and cons regarding the acquisition of a hunting\family dog. Please do not think one can read an article such as this and run right out and purchase the right dog for you and your family. This is just one person's opinion and you should exhaust every avenue before making the final decision and making the purchase of your new family member.
Next on our list is male or female – now this is a real hard decision, believe me. But let's jump back a bit and have a long honest look at our past hunts, how soon we seem to forget. Remember sitting patiently in the blind, having arose in the middle of the night, or at least it seemed the middle of the night. Ate a hurried breakfast and made our way to the site where we would hunt for the morning. We placed our decoys in the best possible enticing location and then sat in the blind awaiting the first sliver of dawn to appear on the horizon. Finally, it was almost daylight and we couldn't quite see them, but heard birds buzzing the decoys and even some landing with that soft splashing sound. Remember how we had such a hard time waiting for that last couple of minutes before legal shooting time? Finally it came and we saw birds working the decoy set – my, we really did a good job of setting them out. Here comes the first flock, tentatively we waited until they were well within shotgun range and already committed to the decoys. BOOM, BOOM, BOOM and we saw two fall lifeless into our decoys and another one tumble out of the sky over the marshy area to our right. Well two out of three wasn't that bad, at least we thought that!! What about that one landing in the marsh, didn't it deserve our attention? Of course we looked for it, but looking for a wounded bird in heavy marsh cover is like looking for the proverbial needle in the haystack.
I think the above scenario is all too familiar for those who hunt without a dog trained for its job. Whether it be in the marsh, as described above; goose pits in a grain field or hunting upland birds throughout the wonderful country we live in. Annually there are thousands of game birds lost, either because we couldn't find the obviously wounded ones or we didn't see them go down. Well, my friends, the answer to this dilemma is hunting over a properly trained dog.
Now back to our decision of male or female. First let's take a close at females – ladies first, remember – smile. You are getting one person's opinion after raising the three main retriever breeds and training both sexes. The females seem to bond better, like to train and are great family members. The only real downside to them is when they come into "season", which is usually twice a year. One way to avoid this matter is to have a female spayed. Males on the other hand tend to be a bit harder to bond with as they always want to be "leader of the pack", so to speak. This can sometimes lead to problems in training and work. I prefer the males because they seem hardier in the field – yes, I know, I haven't seen your female work – well there are exceptions to everything and yes, I said at the beginning, you are receiving my view on this subject.
So, we have spent many hours whittling down the field and being new to this sport, we have to depend upon others (sometimes complete strangers) and our gut feeling before we come to the final decision. The main thing here is not to just run out and buy the first hunting dog you find. Remember this animal is going to hopefully be a family member for 10+ years and you want a good working hunting companion in the field – if not, you will end up hunting on your own. Everyone likes to hunt over a well trained, well mannered dog. So, we have finally decided upon a black Labrador Retriever as our choice. Well, one thing for sure, they are the most popular breed and have great temperaments. Now to find a breeder – Vets are great places to start, CKC and AKC have listed the National Breed Clubs and if you have a local Retriever Club, there will be breeders there. Health is one of the main issues when selecting a pup. Both parents and their parents should be clear of any genetic health problems. Hips and eyes are usually the easiest to determine – OFA (the Orthopedic Foundation for Animals) certify hip, elbows and a host of other genetic problems in our canine friends. CERF (Canine Eye Registration Foundation) conduct the eye registry for dogs. Breeders spend lots of money to ensure their breeding stock is completely free of all heredity defects. There is nothing more a responsible breeder would rather do than talk about their breed and their contributions to it.
So, we have spoken to a few local breeders and some not-so-local ones – smile. The actual financial outlay for a pup is a negligible cost compared to the devotion and the cost over the next 10+ years our new family member is going to be with us. We have checked out the parents of the litter and loved what we saw – lots of field titles in both their lines going back three generations, we also had a chance to see both parents work in the field – very impressive display. We now know the breeder is going to stand behind their pups with a health guarantee for two years (it takes that long before the hips can be certified) and have even offered to take us under their wing to help with training.
We should be very proud of ourselves – we have conducted an in-depth study and eliminated all possible problem areas with regards to purchasing a sound, well-bred Labrador Retriever (or any other breed we have settled upon) a serious decision, the effects of which will be with us for approximately 12 – 14 years. Some do not that this much time and effort when buying a house or a vehicle – when maybe they should.
Now that we are in the process of the purchase – we will need to get our friend's training equipment, name, and housing under wraps before they appear at our door. Next issue we will discuss these and various training methods which eventually will take this squirming, little bundle of joy and turn it into a hunting machine anyone would be proud to be associated with.
About BLUE COLLAR ADVENTURES
The goal of BLUE COLLAR Adventures is to provide to you, the outdoor sports person, with a realistic chance at achieving the adventure, you live for and at a price, which you can afford. Visit: www.bluecollaradventures.ca