Guns and Tactics to produce interview series featuring 3-Gun Nation Shooters.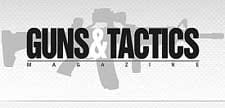 Seattle, WA –-(Ammoland.com)- Guns & Tactics Magazine, a website destination for articles, photos and videos covering everything guns and tactics, announced today that it will produce a video series of interviews featuring the shooters of 3-Gun Nation.
Guns & Tactics will film these interviews on-location at the "Rumble on the Range" event in Las Vegas on January 16, 2013. All competitors are encouraged to take advantage of this opportunity.
Sponsored by RuckPack Combat Nutrition, this year's Guns & Tactics Magazine coverage will be hosted by Mike Hughes, former contestant on History Channel's Top Shot television show along with Blanca, Guns & Tactics model.
Visit the official Guns & Tactics Magazine vehicle at the event and enjoy a RuckPack energy shot, FREE!
Go to https://gunsandtactics.com to subscribe to updates from Guns & Tactics.
About RuckPack
RuckPack is the combination of an energy shot and nutritional supplement; defining a new category within the energy drink and sports energy drink markets – Peak Performance Nutrition. The only nutritional shot created on the battlefield by Special Operations Forces Marines for the rigor of war, RuckPack is proven to sustain peak mental and physical performance. Learn more at https://www.ruckpack.com
About Mike Hughes
Mike Hughes is a former contestant on History Channel's Top Shot, Season 3. However, he's also well known as the founder of Next Level Training and the inventor of the SIRT training pistol. Learn more about Mike Hughes and the SIRT training pistol at https://nextleveltraining.com
About Guns & Tactics
Guns & Tactics is a digital production and social media company specializing in marketing, video production, photography and editorial services specific to firearms, tactical products and shooting lifestyles. Learn more at https://gunsandtactics.com.