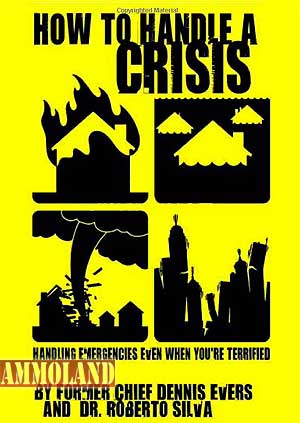 USA – -(Ammoland.com)- "How to Handle a Crisis" was created for individuals, families, students and businesses that are concerned about personal safety, soaring crime, global threats and police and emergency services layoffs.
Loaded with protocols for dealing with natural and manmade disasters, terrorism, nuclear, biological, chemical and medical emergencies.
Including automobile accidents, active shooters, missing children, crime and other emergencies, there are also chapters on travel, hotel and aircraft safety.
With an extended look at preventing ID theft, sheltering in place, emergency food and water as well as how to prepare for a disaster.
"How to Handle a Crisis" has an extensive up-to-date first aid chapter has protocols for not only common medical emergencies such as fractures, heart attacks, strokes, bites, stings and poisonings, it also contains protocols for emergencies not normally found in civilian books such as blast injuries, childbirth, influenza and puncture wounds.
"How to Handle a Crisis" was created for civilians without emergency training that still wish to be prepared in the event help may not be immediately available
A must have for any well prepared Prepper or Survivalist. Available on Amazon: https://tiny.cc/3qedrw