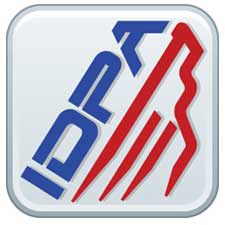 BERRYVILLE, Ark. –-(Ammoland.com)- The International Defensive Pistol Association (IDPA) announced that John May has been named match director for the 2013 IDPA National Championships, marking the fifth time May takes the reigns of the organizations pinnacle match.
"It is with great pleasure that we welcome back John May as our Nationals match director," said Joyce Wilson, executive director for IDPA. "No one else has the breadth of experience that John has when it comes to running IDPA's biggest event. With a well-known reputation and a design philosophy that mirrors the fundamentals of IDPA, I know John will give IDPA members our best Nationals yet."
May previously served as match director for the IDPA National Championships in 2003 thru 2006 when the event was hosted by the Central Arkansas Shooters Association (CASA). During that period the host club and match staff under May's direction created an atmosphere of "mi casa es su casa" which helped build IDPA's identity as one of the more social of the shooting sports.
"I am honored to once again serve as IDPA's match director for the Nationals. For the last 16 years IDPA has grown into what is today one of the largest and most important competitive shooting organizations in the country. I am proud of the small role I played to create the fellowship of like-minded shooters that exists in IDPA today, and look forward to working with a talented team of safety officers and match staff to insure that culture of match excellence continues in the future," said May.
Hosted by the U.S. Shooting Academy in Tulsa, Oklahoma, the 2013 IDPA National Championships will take place September 19 thru 21 and are again expected to draw over 300 of the sport's top shooters.
IDPA headquarters will announce complete match registration details for the 2013 National Championships in the coming months. Companies interested in sponsoring the 2013 IDPA National Championships should contact Robert Ray at IDPA headquarters at (870) 545-3886.
For more information on IDPA, the IDPA National Championships or to get started in this fun and exciting defensive pistol shooting sport, visit www.IDPA.com. You can also connect with IDPA online by following @OfficialIDPA on Twitter, like ShootIDPA on Facebook, watch IDPA TV, or check for regular news and updates on the DOWN ZERO Blog.