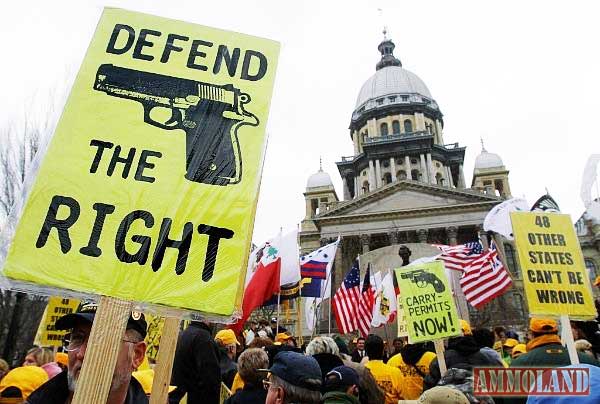 Illinois –-(Ammoland.com)-  Anti-Gunners Seek to Exploit Tragedy to Advance their Anti-Freedom Agenda to Ban and Register Guns and Magazines – Contact your state Representative TODAY
Yesterday when Senate President John Cullerton was unable to garner thirty votes in the Illinois Senate to pass legislation banning firearms and magazines, he postponed the floor votes on these bills until next week.  Now Governor Patrick Quinn and Chicago Mayor Rahm Emanuel have shifted their anti-gun focus to the state House of Representatives in an attempt to ban your guns and magazines during the Lame Duck session on Sunday through Tuesday.
As a way of distracting attention from his failure to control and reduce out-of-control violent crime in Chicago, Emanuel is once again actively seeking to restrict your Second Amendment rights.  Emanuel is infamous for saying "You never want a serious crisis to go to waste.  And what I mean by that is an opportunity to do things you think you could not do before."  Convenience should never be used as a factor.  No time should ever be considered a good time to attack the law-abiding public and strip it of its rights and civil liberties.  As previously reported here, the Illinois Senate recently attempted and continues to try to pass two extreme anti-gun bills which, if enacted, will ban, tax and require registration for semi-automatic firearms or detachable magazines, impose severe restrictions on shooting ranges and create a myriad of new laws that will easily turn an entire class of law-abiding citizens into felons.  After their efforts stalled yesterday in the Illinois Senate, thanks to your efforts to call and e-mail your state Senators, it appears that Emanuel and Quinn are still hell-bent on exploiting recent tragedies to achieve their goal of making YOU a felon by shifting their anti-gun focus to the state House.   So they are now looking to introduce similar gun and magazine ban registration language in the House when it convenes on Sunday for the last few days of their lame duck session.
Representative Edward Acevedo just filed an amendment to Senate Bill 2899 which would accomplish this.  This bill is currently scheduled to be heard by the House Judiciary I – Civil Law Committee on Sunday afternoon and will be considered by the full House soon after.  It is critical that you call your state Representative TODAY and respectfully demand that he or she oppose any and all anti-gun initiatives, especially Senate Bill 2899, and stand up for your rights!
While details are still emerging as to the particulars of this legislation, one thing is for certain:  Anti-gun politicians are attempting to sacrifice your constitutional rights as a scapegoat for the criminal acts of violence in Chicago by gangs and drug dealers.  While it might be convenient right now, it is irresponsible for these anti-gun politicians to launch an attack on your rights as a consolation prize just because they lost in their attempts to flout the Constitution and deny Illinois citizens their right to keep and bear arms.
They may not have not achieved success in courts or in the Senate thus far, but they are still determined to go after your rights.  Don't let them succeed in banning your firearms or magazines as an excuse for stopping criminals and lunatics from misusing them.  Criminals — by definition — violate laws, especially gun control laws, including often: murder, rape, robbery, drug-dealing, gang violence, firearm theft, carrying concealed firearms without a license/permit, federal gun-free school zones.  They do not obey gun bans, register their firearms, or get subjected to any gun control schemes (like the lone state ban on carrying concealed firearms for self-defense) that only affect and penalize law-abiding citizens like you.
Your telephone calls TODAY to your state Representatives will determine the outcome of this very serious assault on your Second Amendment rights.
The NRA-ILA will continue to send legislative updates as details become available.  However, it is of the utmost importance that you act NOW to stop this gun and magazine ban.  Call your state Representative IMMEDIATELY and respectfully express your opposition to banning firearms or magazines, and urge them to vote against any and all measures that do so, particularly Senate Bill 2899.
To reach the main line for the Illinois General Assembly, please call 217-782-2000.
Contact information for your state legislators can be found by clicking here.
About:
Established in 1975, the Institute for Legislative Action (ILA) is the "lobbying" arm of the National Rifle Association of America. ILA is responsible for preserving the right of all law-abiding individuals in the legislative, political, and legal arenas, to purchase, possess and use firearms for legitimate purposes as guaranteed by the Second Amendment to the U.S. Constitution. Visit: www.nra.org