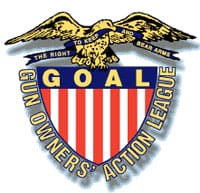 Northboro, MA – -(Ammoland.com)- Attention GOAL members and supporters, in the hail storm of anti-civil rights legislative proposals over the past few weeks it is our time to be proactive.
Friday, January 18, 2013 was the deadline for filing legislation in the Massachusetts legislature. In the next few weeks politicians now have the ability to gather co-sponsors for their bills.
It is important for GOAL members to reach out to their local state representatives and senators and ask them to sign on to GOAL's legislation that will bring about some reasonable reforms to the gun laws of the Commonwealth. When contacting them please be polite and succinct. Once they have had a chance to review the GOAL package of legislation, ask them to contact you and let you know what they are going to sign on to.
Ask your state representative and senator to co-sponsor GOAL's legislation. Ask them to "sign onto the bill"!
While you are touching base with your legislators it is also equally important to express your feelings about the anti-civil rights legislation filed by the Governor and certain legislators. Ask them not to sponsor any such foolish proposals that will do nothing to increase public safety.
Ask your state representative and senator NOT TO sponsor Governor Patrick's or Rep. Linsky's proposed legislation.
Keep in mind that the bills currently have "Docket Numbers". These numbers are likely to change when the legislative committees are assigned and permit bill numbers are given. Below is a list of docket numbers and titles for the GOAL legislative package.
To review brief summaries of the legislation please click here.
To find contact information for your local senator and state representative click here.
2013 GOAL Legislation:
HD 1916 An Act Relative to Civil Liability for Protecting One's Home
HD 1926 An Act Relative to Civil Rights and Public Safety
HD 1940 An Act Associated with Incurred Fines for Delayed Firearm License Renewals
HD 2693 An Act Relative to Constitutional Rights
HD 2694 An Act Relative to an Unloaded Rifle or Shotgun
HD 2695 An Act Relative to Equitable Firearm License Fees
HD 2697 An Act Relative to Fair Licensing
HD 2700 An Act Relative to Firearm License Disqualifiers
HD 2703 An Act Relative to Non-resident Second Amendment Civil Rights
HD 2705 An Act Relative to the Lawful Sale of Ammunition
HD 2707 An Act Relative to the Lawful Sale of Handguns
HD 2712 An Act Relative to the Term of Firearms Licenses
HD 2717 An Act Relative to Youth Firearm Training and Competition
HD 2720 An Act Relative to Youth Hunting Programs
HD 2724 An Act Removing Change of Address Civil Rights Penalties
HD 2728 An Act Repealing the Ban on Modern Sporting Rifles
HD 2953 An Act Relative to Sales Tax Exemptions for Gun Safes and Trigger Locks
HD2954 An Act Relative to Gun Safe Deductions
Thank you GOAL
About:
Gun Owners' Action League is the official state firearms association in Massachusetts. We are an association of law-abiding citizens who believe in the basic right of firearms ownership for competition, recreation and self-protection. GOAL works hard to defend the Constitution and the Bill of Rights against those in Massachusetts who wish to infringe upon the freedoms guaranteed by our forefathers. The programs sponsored and developed by Gun Owners' Action League are supported by competitors, sportsmen, recreational shooters and law enforcement throughout the state. We were formed in 1974 to protect the right to keep and bear arms for lawful purposes in the Commonwealth of Massachusetts. We are recognized as the state's premier gun rights association. www.goal.org