by Evan Heusinkveld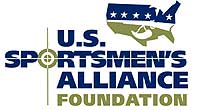 Columbus, OH –-(Ammoland.com)- It's common this time of year for political pundits to speculate how the new 113th Congress will impact the lives of everyday Americans.
Sportsmen are no different. We also wonder how a newly constituted government made up of a confidently re-elected, lame duck President Obama, a Senate where Democrats increased their majority, and a House where Republicans held fast to their strong majority will make a difference to the future of hunting, fishing, trapping, recreational shooting and more.
The most important thing that the government can do for American sportsmen and women is nothing. Much like the Hippocratic Oath physicians takes upon becoming licensed to practice medicine – "Do No Harm" should be our first wish from the new Congress. However, an increasingly urban country – and urban-based politicians – demands that hunters and anglers emerge from our defensive bunkers, and try to put in place laws that will protect our precious heritage for generations to come.
For that reason, the Sportsmen's Heritage Act must be resurrected from its death in the Senate late last year, and re-introduced as early as possible in 2013. While there are many things in the legislation that are essential for conservation, two are vital for the future of hunting, fishing and shooting:
The first is "Open Until Closed." This provision mandates that Bureau of Land Management and National Forest Land be open to hunting unless federal agencies make a finding that hunting is incompatible with that specific property. A similar provision was part of a law passed in 1997 for National Wildlife Refuges which resulted in hundreds of thousands of acres in new hunting lands open to sportsmen and women all over the United States.
Anti-hunting organizations know that access to hunting land is key to the survival of hunting. That is why they and extreme environmentalist organizations fought the provision for BLM and Forest lands this past year. They have spent the last fifteen years tying up new openings of hunting land in federal court. The "Open Until Closed" language puts a stop to that game and we must fight to make sure that it passes.
The second provision deals with these same groups using the court system to try and force the U.S. EPA to restrict or ban lead in ammunition and fishing tackle. They are banking that an activist federal judge will bend the Toxic Substances Control Act to apply to ammo and tackle even though that was never the intent of lawmakers back in 1973 when the bill was passed.
The anti's know that restrictions on traditional ammunition and low cost fishing tackle will drive up the cost of hunting, fishing and recreational shooting, thereby driving another segment of sportsmen and women from our ranks. It's all part of their "Death by a Thousand Cuts" strategy they have conceived to see the end of our heritage.
And like "Open Until Closed," it's why it is vital that sportsmen fight to see these important protections enacted by the new Congress.
It would be easy to stereotype the Senate with its larger democratic majority and predict that it will not allow either of these provisions to become law. But that may be premature. The Senate is a politically pragmatic institution. And the Senate majority leader, Harry Reid has been shown to be practical when it is in the best interest of his caucus. The key for sportsmen will be to attract the support of democrats in the Senate, who need our support at election time, and convince them to push for these much needed changes.
The bigger question is what will President Obama, who no longer faces re-election concerns, do if the Sportsmen's Heritage Act is placed on his desk? The best thing sportsmen and women can do is to put it there to find out the answer.
About:The U.S. Sportsmen's Alliance is a national association of sportsmen and sportsmen's organizations that protects the rights of hunters, anglers and trappers in the courts, legislatures, at the ballot, in Congress and through public education programs. Visit www.ussportsmen.org.