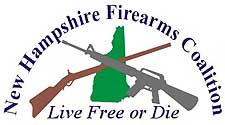 New Hampshire –-(Ammoland.com)- The New Hampshire Firearms Coalition is facing dozens of battles in the New Hampshire legislature this year, so we need to increase the size of our pro-gun army.
Come visit NHFC at the DiPrete Gun Show at the Center of New Hampshire on January 12 and 13, 2013 and you can participate in our "2013 Legislative Victory Raffle".
Thanks to the generosity of Jim McLoud owner of the Manchester Firing Line Range and Shooters Outpost, we are able to offer you a chance to win a Windham Weaponry "MPC" AR-15 type Carbine. Everyone knows this is the type of rifle that the gun ban elites don't want you to own. You also know that these are very hard to get now. But NHFC has one and you could be the lucky winner.
This excellent carbine is loaded with features that the anti gunners hate. It comes with a 30 round magazine, M4A4 Type Flat Top Upper Receiver with Detachable Carry Handle, the barrel is 4150 Chrome Moly Vanadium Steel with M4 Feed Ramps, 1 Turn in 9" – Right Hand Twist with an A2 Flash Suppressor and Bayonet Lug, 6 Position Telescoping Buttstock with Windham Weaponry Logo and comes in a hard case. Click here for full specs.
Sorry, this carbine, which was made by Americans in Maine, is not lawful for sale or transfer to Massachusetts residents.
Raffle Tickets are $4.00 each or 3 tickets for $10.00. Winning ticket will be drawn on Sunday, January 13, 2013. Winner need not be present to win.
In Liberty,
Jonathan R. Evans, Esq.
President – NHFC
About New Hampshire Firearms Coalition:
The New Hampshire Firearms Coalition is New Hampshire's only No Compromise Gun Rights Organization. While many so-called "gun rights groups" work to curry favor with politicians and the media, NHFC is working aggressively to hold politicians accountable and to put a stop to gun control. Visit: www.nhfc-ontarget.org