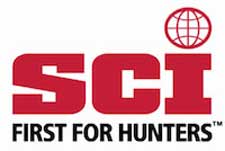 Washington, DC – -(Ammoland.com)- Safari Club International (SCI) is pleased to recognize Representative Paul Ryan (Wisc.) as the 2013 SCI Federal Legislator of the Year.
The award will be presented during the evening banquet on Jan. 25, 2013 at the world's greatest convention dedicated to North American and international hunting, the 41st Annual Safari Club International Hunters' Convention.
"No other legislator is more deserving of this award after the 2012 election cycle than Congressman Paul Ryan," said SCI President John Whipple.

"Being an avid hunter, Congressman Ryan was a champion to our cause, and put the preservation of hunting heritage in the national spotlight during his 2012 vice-presidential campaign. Be it in a business suit or full field attire, voters across the country saw the indelible image of him, with his bow at full draw; showing indisputable evidence of his commitment to being the voice for sportsmen and women both on the campaign trail and in the 112th Congress. SCI is proud to honor Representative Ryan as the 2013 SCI Federal Legislator of the Year."

"It is an honor to be recognized by Safari Club International and its members as the 2013 Federal Legislator of the Year. I'm grateful to win this award and even more excited to be able to pass on to my children the hunting traditions and values that SCI stands for," Ryan said. "The values of sportsmen and women have been a focus throughout my career and I will continue to support the hunting traditions and rights we cherish."
Aside from his legislative work in Congress and with Safari Club International, Ryan is a member of the Congressional Sportsmen's Caucus (CSC), having previously served as co-chairman for CSC in the U.S. House of Representatives from 2007 to 2011.
Becoming an SCI Member:
Joining Safari Club International is the best way to be an advocate for continuing our hunting heritage and supporting worldwide sustainable use conservation, wildlife education and humanitarian services. JOIN NOW: www.safariclub.org/Join.
Safari Club International
First For Hunters is the leader in protecting the freedom to hunt and in promoting wildlife conservation worldwide. SCI's approximately 200 Chapters represent all 50 of the United States as well as 106 other countries. SCI's proactive leadership in a host of cooperative wildlife conservation, outdoor education and humanitarian programs, with the SCI Foundation and other conservation groups, research institutions and government agencies, empowers sportsmen to be contributing community members and participants in sound wildlife management and conservation. Visit the home page www.safariclub.org or call 520-620-1220 for more information.