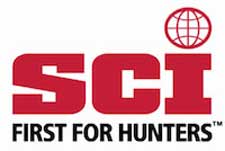 Reno, NV – -(Ammoland.com)- To kick off the 41st annual Safari Club International (SCI) Hunters' Convention and inaugural sporting clays shoot benefiting the SCI Foundation and the Boy Scouts of America.
The event was held Tuesday January 22, 2013 at the Sage Hill Clay Sports in Reno, NV.
"It's very exciting to bring the SCI Foundation and Boy Scouts of America together to pass down the heritage of ethical hunting and conservation to the next generation of sportsmen and women," said SCI Foundation Vice President and Event Chairman Roman Deville. "It's the beginning of a partnership of two of the greatest organizations I've come across."
A total of 11 teams participated in the event and enjoyed a morning of shooting on the sporting clays course. In addition to raising financial support for the SCI Foundation and Boy Scouts of America, the event also raised awareness of the strategic collaboration between the groups.
SCI Foundation and Boy Scouts of America are focused on providing an optimal outdoor experience to an increasing number of youth focusing on youth leadership and ethical behavior, outdoor and science-based experimental education, wildlife management and habitat conservation through activities that safely and responsibly convey the shooting sports and hunting traditions of America.
Event sponsors included Beretta, Mountain Khakis and J. Alain Smith Patron Sponsor. Winning teams and top individual male and female shooters were honored with a plaque.
Top 3 performing Teams
1st Place Boy Scout team #3 Terry Scott, Glenn Adams, John Green, Jim Ryffel
2nd Place Boy Scout team #1 John Clark, Susan Norris, Pat Bollman, Ricardo Longoria
3rd Place Boy Scout team #2 Bill Stark, Dave Hedman, Charles LaBrague, Marcul Gray
Top Performing Individual Male Shooters
1st Place Terry Scott
2nd Place T.R. White
3rd Place Charles LaBrague
Top Performing Individual Female Shooters
1st Place Corey Cogdell
2nd Place Jane Keller
3rd Place Ingrid Williams
For more information on SCI Foundation go to www.safariclubfoundation.org
Contact: Nelson Freeman, [email protected] or 202-731-6468
Safari Club International is the leader in protecting the freedom to hunt and promoting wildlife conservation worldwide. SCI effectively represents hunters' interests in legislative bodies at every level, the legal arena and international diplomatic forums. Safari Club International Foundation funds programs worldwide in wildlife conservation, outdoor education and humanitarian services. For more information visit www.safariclub.org or www.showSCI.org.