By AWR Hawkins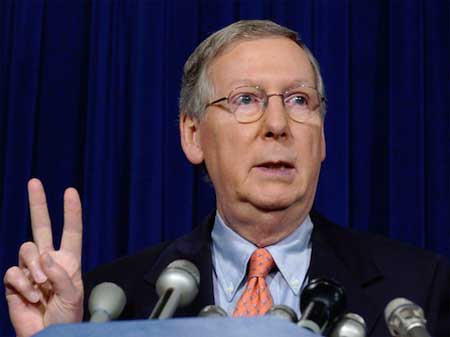 Washington DC – -(Ammoland.com)-Over the weekend, Sen. Mitch McConnell (R-Ky) did exactly what gun owners have been waiting for someone in a position of power to do –he vowed to stand between the Second Amendment and Obama's relentless gun grabbing efforts.
Speaking to Kentucky voters, McConnell said:
President Obama and his team are doing everything in their power to restrict your constitutional right to keep and bear and arms. Their efforts to restrict your rights, invading your personal privacy and overstepping their bounds with executive orders, are just plain wrong…I will do everything in my power as Senate Republican leader, fighting tooth and nail, to protect your Second Amendment rights.
McConnell said Obama's gun grab must be stopped so "law-abiding citizens" can "properly and accurately" defend themselves, their families, and their country.
Last week, Kentucky's junior Senator Rand Paul (R) took a similar position, when he vowed that he will introduce legislation nullifying Obama's executive orders on guns.
About:
AWR Hawkins writes for all the BIG sites, for Pajamas Media, for RedCounty.com, for Townhall.com and now AmmoLand Shooting Sports News.
His southern drawl is frequently heard discussing his take on current events on radio shows like America's Morning News, the G. Gordon Liddy Show, the Ken Pittman Show, and the NRA's Cam & Company, among others. He was a Visiting Fellow at the Russell Kirk Center for Cultural Renewal (summer 2010), and he holds a PhD in military history from Texas Tech University.
If you have questions or comments, email him at [email protected] You can find him on facebook at www.facebook.com/awr.hawkins.