BFG-50A is Lighter, Better Built, More Accurate and Costs Thousands Less Than Competitor's Offerings.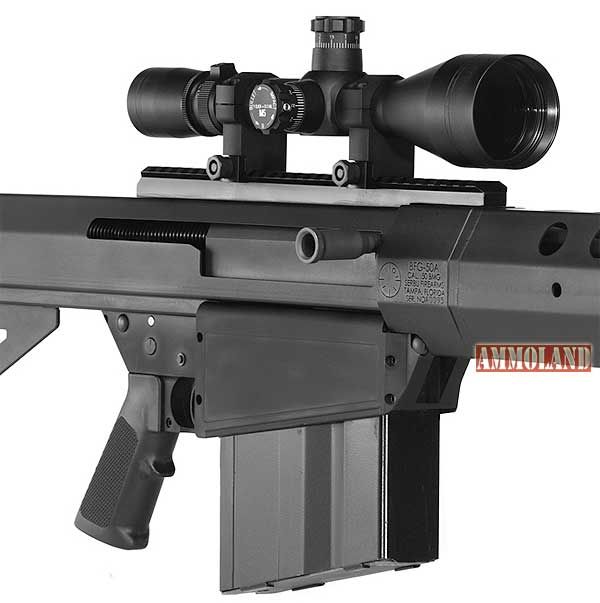 Tampa, FL –-(Ammoland.com)- Serbu Firearms, Inc., manufacturer of state-of-the-art specialty firearms, announced today its new .50 BMG semi-automatic sniper rifle.
In development for more than seven years, the BFG -50A is a marvel of design and engineering.
Its gas operation means it is utterly reliable and the fixed barrel means you don't have to make excuses for the poor accuracy associated with recoil-operated guns incorporating moving barrels that never return to the same place twice.
At 23 pounds it is by far the lightest semi-auto .50 BMG rifle ever put into production and with a list price of $6,700 it costs thousands less than competitor's offerings. Law enforcement agencies and military personnel are thoroughly impressed with every aspect of this rifle. Serbu Firearms will be showcasing its BFG-50A at the SHOT Show in Las Vegas January 15th-18th in booth # 20645.
"The accuracy, ease of shooting and reliability of the BFG-50A far surpasses any other semi-auto .50 BMG rifle on the market," said Captain Satterfield, head of Georgia's Cherokee County Sheriff's Office sniper team. "My fellow snipers and I are sincerely appreciative of the support and expertise provided by Serbu Firearms throughout our testing and purchasing process."
The BFG-50A has achieved .5 MOA accuracy at 400 yards, a feat impossible with any other semi-automatic .50 BMG rifle. Its nitrided alloy steel barrel features the exclusive Serbu Accuracy Chamber, which allows shooters to fire standard surplus as well as match ammunition and fire either more accurately than guns equipped with machine gun chambers. Field stripping takes seconds and is accomplished with nothing more than a bullet point. However, stripping is not required for transporting in its case; the 51.5" overall length means it comes out of the case fully assembled and ready to go. The hand guard and barrel/barrel extension are easily replaced, making configuration or caliber changes easy and the incredibly effective Shark Brake muzzle brake coupled with a thick butt pad and hydraulic buffer make the BFG-50A the lightest recoiling .50 BMG rifle available.
"The BFG-50A is the lightest, best built, most reliable and accurate .50 BMG caliber semi-auto sniper rifle ever put into production -period," said Mark Serbu, designer of the rifle and president of Serbu Firearms. "Law enforcement, government agencies and militaries can rest assured this rifle will surpass all expectations and mission requirements."
About Serbu Firearms
Serbu Firearms is a small, very capable firearm design/manufacturing company. Founded in 1996 by mechanical engineer Mark Serbu, the company has carved out a niche producing .50 BMG rifles and short-barreled shotguns. Our main products are the BFG-50A semi-automatic and BFG-50 single-shot .50 BMG rifles and the SUPER-SHORTY 12-gauge shotgun. Visit: www.serbu.com