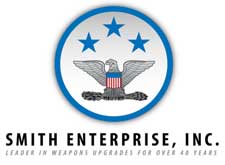 TEMPE, Ariz., –-(Ammoland.com)-  Smith Enterprise (www.smithenterprise.com) is rolling out some exciting and new products for the 2013 Shot Show.
All products will be available for viewing or ordering. Please come by and see these products for yourself:
New M14 G6A3 Vortex Flash Hider
New M4 G6A3 Vortex Flash Hider
New Sound Suppressor Coupler
New M14 Gas Piston
New Spindle Valve for M14 Gas Cylinders
New Smith Battle Rifle (as featured on the American Rifleman)
M14 Crazyhorse Rifle (with improvements)
M14 Mod O Rifle (with laser engraved op rod and sage stock)
TACOM M14 EBR
Smith Enterprise will also have other specials at the Shot Show.  They will be selling their $140 Scope Ring for only $90 a set and will also have some bargains for flash hiders and weapons parts.
Specifications and pictures of SEI's products can be found online on the SEI Products Page. Products can be ordered online from Brownells as well as GSA Advantage (schedule GS-07F-0144X) for government customers.
The SHOT Show will take place this year between January 15-18, 2013 in Las Vegas, NV. Smith Enterprise will be in booth 6410 in the Casanova Room.
To get updates about SEI's involvement in the Shot Show please join the below SEI social media sites.
Smith Enterprise Mailing List
A copy of the original press release can be found on the SEI Blog.
For any questions regarding the Shot Show not answered on social media, they can be answered by John Bainer at [email protected] or 843-991-3135.