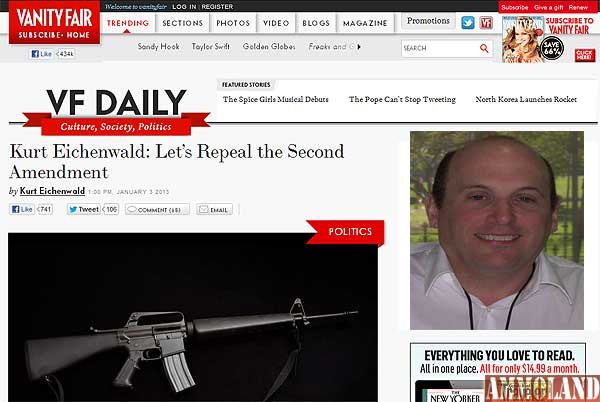 Washington DC – -(Ammoland.com)- On January 2, Vanity Fair ran an all-out attack on the constitution, the 2nd Amendment, and common sense in a column by Kurt Eichenwald titled, "Let's Repeal the Second Amendment." ( http://tiny.cc/fekeqw )
Eichenwald's approach consists of attacking the NRA, arguing that gun owners avoid discussing more gun control by saying they don't want to "politicize" shootings, and taking the standard progressive position that there wasn't really a right to keep and bear arms until Justice Antonin Scalia created one in recent Supreme Court decisions.
One of his criticisms of the NRA is that they opposed forcing "states to submit mental-health records to FBI databases" following the Virginia Tech shooting. While this seems to have little, if anything, to do with the 2nd Amendment, Eichenwald said the submission of such records was "reasonable" and berated the NRA for pressing legislators to soften the requirement.
Missing here is the fact that the NRA was not trying to find ways to put guns in the hands of the mentally ill — as Eichenwald intimates they were — rather, they were trying to be sure the government didn't get a new tool whereby they could flag a patient's record for reasons other than mental health, thereby denying him or her the right to keep and bear arms for life.
Ironically, in early Dec. 2012, I wrote about Sen. Chuck Schumer's (D-NY) attempt to use mental health records to deny military vets their right to keep and bear arms. As that post made clear, Schumer's rules were so broad that a military vet having financial problems could find him or herself labeled "mentally incompetent," and therefore be denied the right to buy, possess, and/or use a firearm.
This was the very thing the NRA was fighting against. Yet Eichenwald is twisting it to make it look like the NRA was fighting for the rights of the mentally ill to own guns.
Regarding Scalia, Eichenwald criticizes his exposition of the amendment. He focuses on Scalia's statement that the 2nd Amendment could actually be worded, "Because a well regulated military is necessary to the security of a free state, the right of the people to keep and bear arms shall not be infringed." But Scalia's version is simply a restatement of the original, with an emphasis on the meaning of specific phrases.
Compare for yourself — here's the original: "A well regulated military being necessary to the security of a free state, the right of the people to keep and bear arms shall not be infringed."
In the end, Eichenwald intertwines Scalia's grammatical approach to the 2nd Amendment with his own, and that of other commentators, in order to be able to say "the Second Amendment is an incomprehensible mess."
This is a convenient tactic, is it not? Eichenwald muddies the water with linguistic twists and turns from various schools of thought, then puts them all together to make things as incongruent as possible, all in the name of getting rid of incongruency.
The Vanity Fair piece has some glaring factual errors that some readers might miss because Eichenwald hides them in sarcasm. While I don't know if the errors are intentional, and therefore examples of purposefully misleading readers, I do know that they are big enough to be embarrassing to any thoughtful scholar or writer.
For example, when Eichenwald talks about the word "arms" in the 2nd Amendment, he goes out of his way to say there is no historic support that this referred to weapons that were concealable or that there were even concealable weapons.
In fact, he writes that the thought of "concealed weapons" was "largely impossible."
I would advise Eichenwald and any other leftist who's thinking of writing such things to read Joyce Lee Malcolm's remarkable To Keep and Bear Arms: The Origins of an Anglo-American Right before they do. In that book, printed by Harvard in 1994, Malcolm traces the philosophy and practice of gun rights prior to the birth of the United States.
Anyone who takes time to read that book will see the focus on "concealable weapons" that came into play in the 1600s, not only with the development of the "handgun" but also with the refinement of the crossbow.
The bottom line: concealable weapons were very much within the purview of our Founding Fathers when they wrote and signed their names to the 2nd Amendment.
About:
AWR Hawkins writes for all the BIG sites, for Pajamas Media, for RedCounty.com, for Townhall.com and now AmmoLand Shooting Sports News.
His southern drawl is frequently heard discussing his take on current events on radio shows like America's Morning News, the G. Gordon Liddy Show, the Ken Pittman Show, and the NRA's Cam & Company, among others. He was a Visiting Fellow at the Russell Kirk Center for Cultural Renewal (summer 2010), and he holds a PhD in military history from Texas Tech University.
If you have questions or comments, email him at [email protected] You can find him on facebook at www.facebook.com/awr.hawkins.