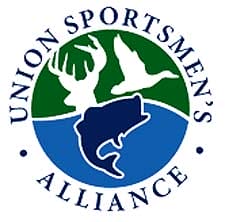 Nashville, TN –-(Ammoland.com)- The Union Sportsmen's Alliance's award-winning hunting and fishing TV show, Brotherhood Outdoors, will feature an exhilarating Vancouver Island black bear hunt with Kalama, WA native and HVAC mechanic Mark Spreadborough at 11 a.m. ET on Sunday, January 6 on Sportsman Channel.
A member of United Association Local 290, avid outdoorsman and proud father, Spreadborough will battle the terrain and wilderness outside of Port Alberni as he attempts to harvest his first bear with his great-grandfather's 1895 Winchester rifle 'Big Medicine'—named after one of Theodore Roosevelt's favorite firearms.
"Putting your hopes and dreams into a situation that's guarded with a primitive weapon can be intimidating," said Brotherhood Outdoors co-host Julie McQueen. "Mark never once seemed nervous about carrying around the rifle and iron sights. In fact, we all felt a sense of pride each time Mark took the gun from its case and an air of nostalgia as we glassed the mountains of Vancouver Island."
Inspired by a 1930's picture of his great-grandfather with 'Big Medicine' and the large black bear he killed on the family homestead, Spreadborough dreams of walking away from the hunt with a picture of his own to pass on to future generations.
Still residing on his family's 60-acre homestead, Spreadborough carefully manages the timberland and stream to maximize food and shelter for wildlife, while also practicing sustainable wood harvesting methods. At just 14 years old, he harvested his first bull elk on the homestead and is now working to pass on his family's hunting traditions to his son, as well as his nieces, nephews and co-workers.
"Mark has a big laugh, a strong handshake and is always up for a good time," said McQueen. "This hunt was one of our most challenging, and Mark certainly held his own, both on and off camera. Even when we were 1,000 yards from a bear, he never gave up hope that we'd get within range to fulfill his dream and live out his heritage."
Winner of a 2012 Sportsman Choice award and a 2013 nominee, Brotherhood Outdoors awards union sportsmen and women who are committed to preserving North America's outdoor heritage with a guided trip or the opportunity to show off their guiding skills and local hunting or fishing destinations on national TV.
Presented by Bank of Labor, Brotherhood Outdoors is also sponsored by the following union and contractor partners: Employee Benefit Systems, International Association of Machinists and Aerospace Workers, International Association of Sheet Metal, Air, Rail and Transportation Workers, International Brotherhood of Boilermakers, International Brotherhood of Electrical Workers, National Electrical Contractors Association, and United Association/International Training Fund.
Don't miss Mark Spreadborough's quest for a Vancouver Island black bear on January 6. For more information about Brotherhood Outdoors or a complete lineup, visit www.BrotherhoodOutdoors.tv.
About the Union Sportsmen's Alliance:
The Union Sportsmen's Alliance (USA) is a union-dedicated outdoor organization whose members hunt, fish, shoot and volunteer their skills for conservation. The USA is uniting the union community to expand and improve hunting and fishing access and wildlife habitat while passing on our national outdoor heritage. For more information, visit www.unionsportsmen.org or www.facebook.com/unionsportsmen.
About Sportsman Channel:
Launched in 2003, Sportsman Channel, and Sportsman HD, is the only television and digital media company fully devoted to the more than 82 million sportsmen in the United States, delivering entertaining and educational programming focused exclusively on hunting, shooting and fishing activities. Sportsman Channel reaches 31 million U.S. television households and is available in HD, visit http://sportsmanhd.com for more information. Visit www.thesportsmanchannel.com, follow on Twitter, @SPORTSMANchnl (www.twitter.com/SPORTSMANchnl) and Like on Facebook, www.facebook.com/sportsmanchannel