BOB VOGEL 2 DAY WORLD CLASS PISTOL SKILLS MARCH 2-3, 2013.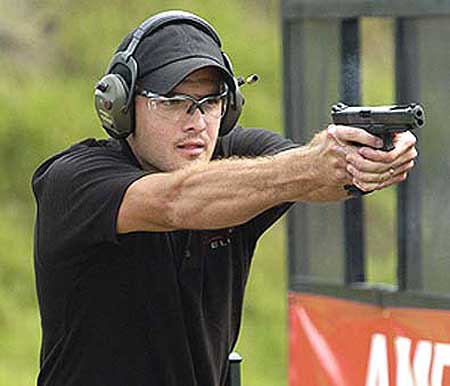 Dorchester, SC – -(Ammoland.com)-  In this course the student will be given the insight into what it takes to develop truly World Class shooting skills.
Starting out with the fundamentals and then delving into a heavy dose of technique that goes well beyond the basics, the student will learn the dynamics involved in driving a pistol to the highest level.
This course is designed around the ultimate and equal balance of accuracy and speed that is applicable just as much to LE/Military as it is to competition. Aside from the techniques and skills taught this course also has aspects that require the student to truly " think" while operating on a course of fire.
A balance between competitive shooting and tactical applications will be maintained. That being said, performing under pressure is paramount.
Outside of actual real life situations, competition is one of the few ways pressure can truly be induced. If you carry or use a handgun in any way, shape or form you will benefit from this course.
Dates:
Saturday, March 2th 2013 9am-5pm

Sunday, March 3rd 2013 9am-5pm

One hour break for lunch on Saturday (Bring you own lunch)
If you have any questions contact Lisa Marie Judy (843)729-3817 or to register go to Bob Vogel World Class Pistol Course
Required Gear:
-Service type pistol

-Holster -Minimum of 2 mag pouches

-Minimum of 4 mags

-400 rounds per day (with the ammunition shortage we will do our best to minimize the round count so we recommend between 300 and 500 rounds)

-Eye and ear protection

-Anything else you would normally bring to the range (maintenance, snacks, etc)
About BELT Training LLC:
Several years ago, my wife and I started this venture. We did this as a way to pass on our belief that we have the right to life, liberty, and the pursuit of happiness, without being victimized by those that would do us harm. The United States Constitution, as well as that of the State of South Carolina, guarantees the right to keep and bear arms; thus affording its citizens the means to protect themselves from predators, whether animal or human.
With this in mind, it is our goal to provide you with the information, skills, tactics and tools necessary to help you properly and intelligently defend yourself and the ones you love. By continually improving our knowledge and skills, we hope to continue to bring you the most current information and training available. We look forward to serving you. Visit: www.belttraining.com