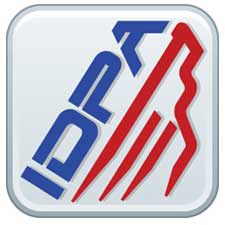 SPRINGFIELD, Mass. –-(Ammoland.com)- For just the second time since establishing the new classification, the International Defensive Pistol Association (IDPA) crowned a three-division Distinguished Master when Dan Burwell of Team Smith & Wesson won the Custom Defensive Pistol title at the 2013 Smith & Wesson IDPA Indoor National Championship this past weekend.
Burwell, who was already a Distinguished Master – the highest skill classification in IDPA – in the Stock Service Pistol and Enhanced Service Pistol divisions, took the title with a final time of 192.01 seconds with 65 points down.
"Dan put on a brilliant shooting display winning three of the 12 stages while facing off against both Glenn Shelby and David Olhasso who are each past CDP champions.

With this win, Dan becomes our sport's second three division Distinguished Master and I join the entire IDPA community in congratulating him on a job well done," said Joyce Wilson, executive director of IDPA.
Second place in the division, finishing just 4.4 seconds out of first, was the defending CDP champion, Glenn Shelby of the Wilson Combat shooting team. Shelby finished with a time of 196.41 with 53 points down. Third in the division went to another Team Smith & Wesson shooter, David Olhasso, with 201.92 (83). Both Shelby and Olhasso are classified as Distinguished Masters within the CDP division.
Fourth in the division finishing as first Master was Chris Chamberlin with a time of 203.11 (65). Finishing fifth overall in the division, and second Master, was Craig Buckland shooting for Wolff Springs.
Elsewhere in the division, Ryan Spencer who placed first Expert with 213.91 (54) will move up to Master class while Dave Corsino moves to Expert class after taking first Sharpshooter with 286.75 (108). Junior shooter Austin Proulx, an Expert in CDP, took High Junior and High Press honors with a time of 314.79 (113) while Mike Strangia took first Marksman with 416.44 (199).
The 2013 Smith & Wesson IDPA Indoor National Championship took place February 21-23 at the Smith & Wesson Shooting Sports Center in Springfield, Mass., drawing many of the shooting sports' top pistol shooters from 28 states, one U.S. territory and three foreign nations.
For more information on IDPA, the Smith & Wesson IDPA Indoor National Championship or to find a club near you, visit www.IDPA.com. You can also connect with IDPA online by following @OfficialIDPA on Twitter, like ShootIDPA on Facebook, watch IDPA TV, or check for regular updates on the DOWN ZERO Blog.