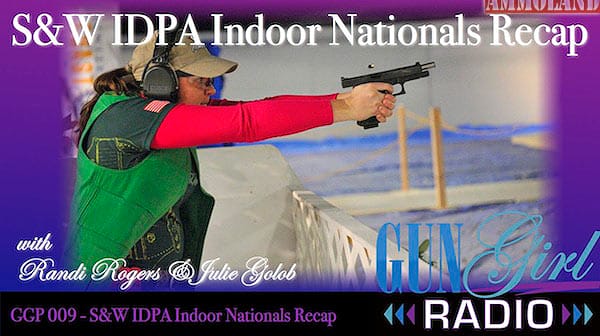 DeKalb, IL –-(Ammoland.com)- This week Gun Girl Radio gets a new sponsor, gungoddess.com.
Gun Goddess is owned by Athena and is a great place for any lady or guy, shopping for his lady, to check out.  You can buy everything from gun inspired jewelry and makeup to pink guns and holsters.  Guys might also find some goodies for themselves at gungoddess.com.
As Julie predicted, Randi came back from the IDPA Indoor Nationals taking High Lady by 59 seconds!  
The bulk of the episode features a question/answer period with Randi.  Randi prepped for the match by shooting an IDPA match at an indoor range in Houston.  One of the big differences to shooting an indoor match is the artificial lighting.  If you don't have a local indoor range, she suggests trying to find a match in the evening to more closely simulate shooting indoors.  Even though the stages were posed on the IDPA website a week in advance, Randi did not have time to replicate them at home.  Instead she worked on the fundamentals which is a good standard practice for getting ready for any major match.  As far as general practice year round, Randi emphasized the need for dry fire.
Randi saw many women at the match, and several placed high in both their respective divisions as well as overall.  The match had 12 stages, the 13th had some prop malfunctions and was dropped from scoring.  This match was very heavy on moving targets.  One stage was completely dark, and two were low-light.  One interesting twist on one low-light stage were targets wearing black t-shirts.  Randi used a Surfire 6P in a cigar hold for the low-light stages.  Round count for the match was about 180.
Randi also discussed several indoor-specific problems she encountered.  One was the different ground surface.  Unlike outdoor matches where footing is more sure in gravel or on cement, for example,  the smooth surface inside makes it harder to both explode out of shooting positions as well as stop suddenly when you reach the next position.  Also with an indoor match you deal with smaller shooting areas.  Randi had to fight the urge to just step to the next position, because it was so much closer, as opposed to more aggressive and faster stances and movement.
Randi's favorite stage was "The Bowling Alley."  You started with a bowling ball in your hand with the lights down low.  Dropping the ball activated lasers, multi-colored lights, and other distractions.  Two movers were also activated by dropping the ball.  She really liked the unique stage that really was an out-of-the-box idea.  Many of the stages were also very standard, something which Randi likes because it tests your fundamental skills.  "Disaster Factor" was high at this match for one reason in particular was the plethora of disappearing targets.  Mis-timing a reload or shooting your gun dry could result is a lot of added time for FTN penalties on disappearing targets.  Accuracy was also a big player here with many targets obscured by hardcover.
Of course with the Oscars upon us, Julie asked Randi about her attire at the awards ceremony.  Most notable would be the 'sparkles' on her dress,  because it turns out Randi loves sparkles.  Lots of guys came in suits and ties and it was nice to see fellow shooters without their glasses and hearing protection on.
For IDPA members, get ready for a completely redesigned IDPA website.  Look for more ways to interact with other members like sharing pictures and video as well as a much more use-friendly layout.  The ladies also answer some listener questions & feedback.  Email the ladies your own questions to [email protected]  Listen to the entire episode at http://www.gungirlradio.com/009/ or subscribe to the show on iTunes.
About Gun Girl Radio:
Gun Girl Radio is a proud part of the Firearms Radio Network.  The show features information and insider perspective on shooting sports, training, hunting and all things outdoors by two of the firearms industry's most talented female shooters, Randi Rogers and Julie Golob.  Gun Girl Radio releases every Wednesday at 12:00 pm CST.  Subscribe to the Gun Guy Radio email list and listen via apple iTunes, Stitcher Radio or gungirlradio.com.
Contact:
Jake Challand
Producer/Host
Email: [email protected]
Web:  firearmsradio.tv